S&P 500 Outlook: ETF Flows Suggest Flight To Currency Market
US equity markets doubled down on their weakness in Friday trading after President Trump announced the United States would increase tariffs from 10% to 25% on $320 billion in Chinese goods. Unsurprisingly, the pressure has spurred investors to rethink their capital allocation. Together, the three largest broad-market tracking ETFs – SPY, IVV and VOO – saw -$5.9 billion leave their coffers since Monday.
INVESTORS SHED S&P 500 EXPOSURE
(Click on image to enlarge)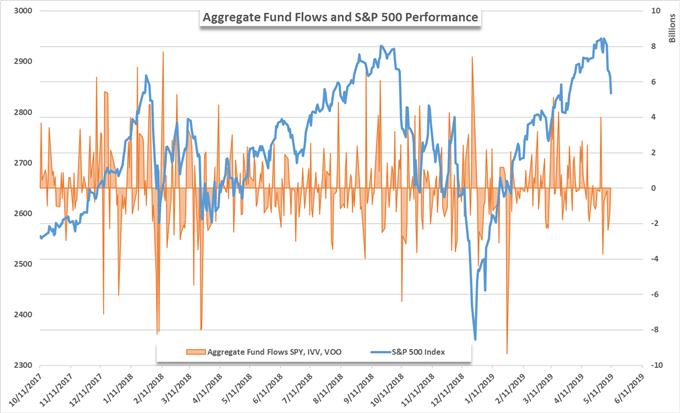 Data source: Bloomberg
With an average daily outflow of -$1.175 billion this week, the three funds are an expression of investor concern regarding the state of risk assets. As investors flee those assets, the typical market convention would suggest government bonds and safe haven commodities like gold would see increased demand.
US GOVERNMENT BOND ETF FINDS FEW BUYERS
(Click on image to enlarge)
Data source: Bloomberg
Interestingly, investors were not interested in longer-term government bonds. The TLT ETF, which grants exposure to US Treasuries with a maturity over 20 years, notched outflows for the week. After recording its largest intraday outflow in the last 1.5 years on April 30, TLT experienced further pressure this week – despite the selloff in equities. That said, fund flows were relatively deadlocked with only -$62 million exiting the fund.
GOLD ETF LOSES ITS SHINE
(Click on image to enlarge)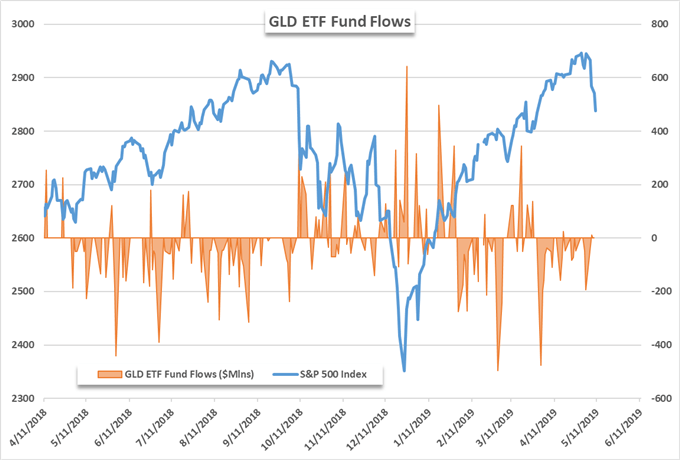 Data source: Bloomberg
Similarly, the GLD ETF saw few buyers this week as -$36 million was shifted out of the fund. The outflows continue the recent trend, with only two days of net inflows since April 1. During this time, the price of gold has dropped from $1,292 to $1,286. Despite a change of only $6, the fund has seen -$1.8 billion move elsewhere – suggesting the precious metal has lost some of its luster.
Although past instances of equity weakness have seen investors pile into funds like TLT and GLD, this round has bucked the trend. With muted fund flows into the typical safe-haven funds, it begs the question – where are investors shifting their capital?