Silver: Warming Up For Main Event
February 11, 2021, at 7 am PST. Gold has been pretty choppy, trading last at $1842.40, slightly lower. Silver is at $27.24, showing more resilience than gold. The E-mini S&P continues to make new highs at 3911. Bitcoin is making record highs. We can't trade every market, so we focus on gold, silver, the E-mini, and Bitcoin. They are volatile, which is great for trading.
Silver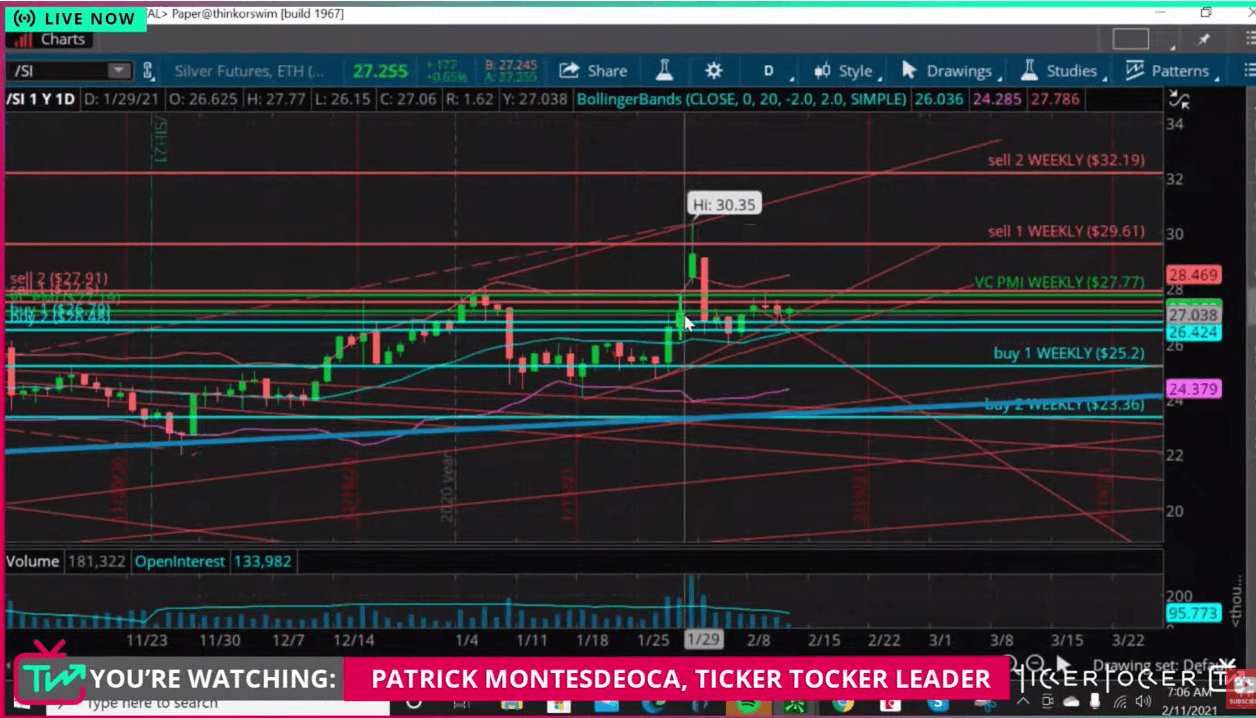 Courtesy: Ticker Tocker
We have a real shortage of supplies, particularly in silver. Premiums are getting high and it takes a long time to get delivery. According to Kitco.com the industrial demand side may be running out of 1,000-ounce silver bars, which are primarily used by industry. Silver is used in computer chips and in cell phones. Not many people realize how much silver is being used for industrial purposes. If we are facing a shortage of the 1,000 ounce bars, then the sleeping giant demand in silver may be awakened. Silver also is completely undervalued in relation to the price of gold. In August 2002, gold made a high of $2089. Silver has not even caught up to what is usual in that spread relationship. If we begin to see a combination of a shortage in the physical market, the coin market, and it triggers a shortage of 1,000 ounce bars for industrial uses, we could see a really exciting market.
The previous high in silver of $30.35 was purely speculative. There was nothing under it. It was a Wall Street trade. What happened was just an indication of things to come.
Silver is poor man's gold and it's heavily used in high-tech industries, in medicine and many other industries. If silver is undervalued and there's a shortage of silver, especially industrial silver, then we could see silver trading at $50 in the blink of an eye. It could make the Reddit trade of a few weeks ago very, very minor in comparison. It could trigger a massive short covering in silver.
It's just a matter of time before we see the volatility that we see in Bitcoin, stocks and certain other areas related to the recent Reddit trades occur in silver. We are beginning to see various products revert back to their real value based on what's happening in the economy. Soybeans were at $8 in March and are now at $14. Corn reached $5.74, up from $3 in March. The shift in wholesale prices will be reflected in a rise in food prices down the line.
Disclosure: I am/we are long SILJ.
To learn more about how the VC PMI works and receive weekly reports on the E-mini, gold and silver, check us out on more