Silver: Supplies Enter Danger Zone
Fundamentals
The Biden administration and other world leaders' plans appear to be factored into the price of gold and silver. Although we had heavily shorted stocks, such as GameStop (NYSE: GME), they had a very short-term impact on the market. However, such events are not over. Players are regrouping. We have the potential for an explosive situation in silver, because we are running out of supplies. The only way to get silver now is to pay a high premium. High tech and industry use silver, so they have to buy silver. Cell phones, solar panels and other high tech products use silver. Demand is increasing. The physical tightness in the cash market could eventually invert the spot market, as happened last year and we saw an $80 move between the gold cash and paper markets. Silver is one of the most undervalued assets, but it's thinly traded, so big hedge funds and banks can move the market. They have been shorting the paper market, depressing the price, especially in relation to the increasing demand in the physical market.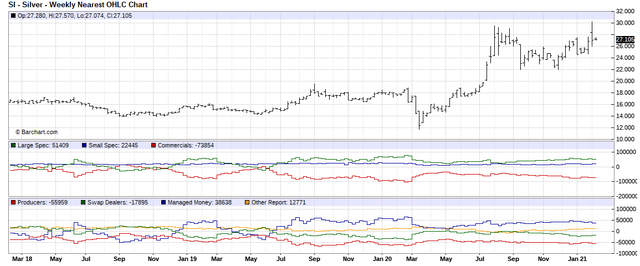 Courtesy: Barchart.com
The 1,000-ounce silver bars are the main type of silver used for industrial demand. If there is a shortage of those bars, then we will know that there is a major shortage of silver and we could see $50 silver very fast.
The gold-silver ratio is in the 67s, which means silver is very undervalued compared to gold. In March, silver collapsed and the ratio hit about 120. We have already seen a 50% drop in silver. This is just the beginning of this move in the precious metals markets. We focus on the technical analysis since based on the fundamentals, prices should be skyrocketing. Central bankers continue to short precious metals and they continue to fall in price. If gold and silver come down, they offer excellent opportunities to buy for the long term.
Gold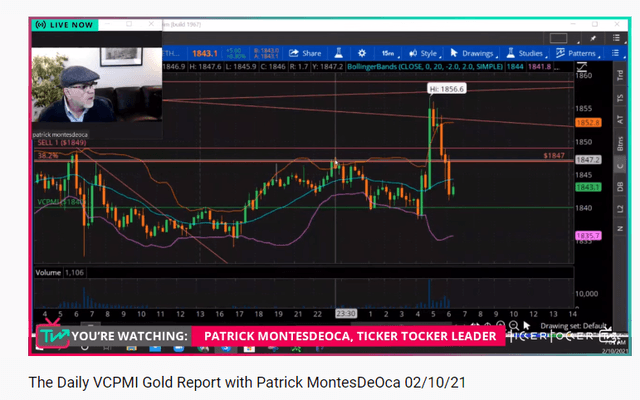 Gold is at $1843.20. We've been all over the place with gold. We have resistance around $1849. We came down to the Variable Changing Price Momentum Indicator (VC PMI) average daily price of $1840. Then huge buying interest came in, which activated a bullish trend momentum up through the Sell 1 target and not quite reaching the Sell 2 level of $1859. Then it reverted back down, activating a short trigger reversal. Gold went right down almost to the first target of $1840. We have seen a lot of volatility.
Disclosure: I am/we are long PSLV. I wrote this article myself, and it expresses my own opinions.
To learn more about how the VC PMI works and receive weekly reports on the E-mini, gold and ...
more