Silver Leading The Way Up
Silver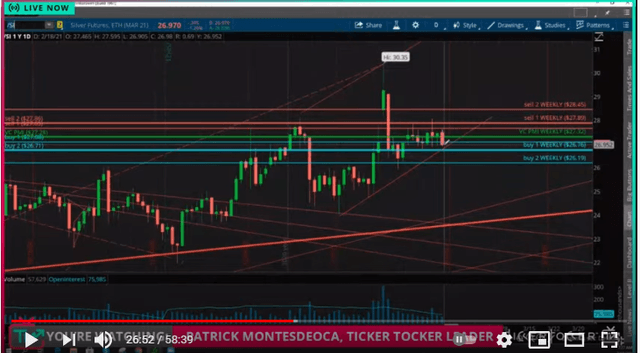 Silver is showing us that all of the sentiment that drove the price down has reached a point where buyers are likely to come into the market. The daily Buy 2 level is at $26.71 and the weekly is at $22.76, which provides a harmonic relationship between the different time cycles. In this area, do not sell.
Look for a washout to $26.71, where a reversion is likely to occur or a close above $27.08. There's a 90% to 95% probability that buyers will come into the market at these levels. You can day trade based on these levels or add to your long-term position.
Gold also is in an area with a high probability of a reversion back up. Do not go short. The probabilities are that the market is going to revert, not continue down. It may continue down, but it's far from likely.
Expect the volatility in gold and silver to continue as the tug-o'-war between the short sellers and the unexpected demand continues. The demand is from the Reddit crowd, but because of them, the whole world is focused on metals, so others are also coming into the market. The increasing demand for silver is really putting the short positions are risk. The London exchange has hardly any physical availability.
If the paper market gets even more out of whack with what is in the physical market, they may stop selling cash. Majestic Silver (AG) did that last year. It did not matter what the paper price was, because that was not the real price. We are running out of supplies. The only place to go was the futures market. The short side of the market is afraid of such a thing happening. We are looking at any time for gold and silver to hit the VC PMI buy triggers.
Disclosure: I wrote this article myself, and it expresses my own opinions. I am not receiving compensation for it. I have no business relationship with any company whose stock is mentioned ...
more