Silver Leading The Way Up
Not counting soybeans means that you are not counting a commodity that drives the food industry, while not counting crude oil is ridiculous, given oil's role in the economy. On top of inflation, we have massive unemployment. These are not normal conditions. This environment is heading toward a massive reversion in precious metals to new all-time highs.
Gold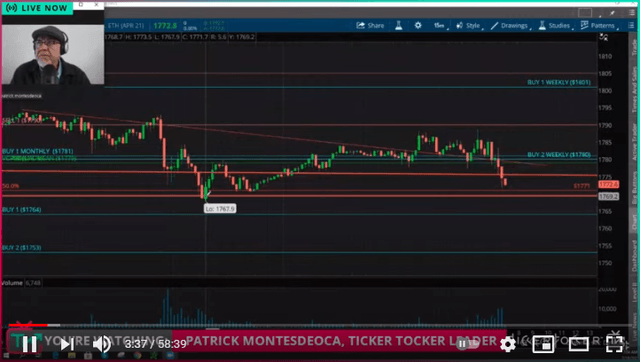 Image Courtesy of Ticker Tocker
In gold, we have been trading above the average monthly price. The daily and the annual average price are at about $1779. That is right into the VC PMI Buy 1 monthly of $1781 and the daily average of $1779. This area of $1779-$1780 is a critical area, which represents what the VC PMI calls a harmonic relationship between different cyclical trends (daily, weekly, monthly, and annual).
Recently, the market came down in a 50% Fibonacci retracement. The low tested the 2020 lows. The market is at a critical pivot point related to the Fibonacci retracement, which is heading into the Buy trigger point of $1763. We have been in a liquidating market since the market high was made at $2089 in August 2020.
Gold and silver prices are being shorted on the paper market in huge amounts, which keeps their price down. The market is testing the November lows of $1767.20. We appear to be within a few dollars of the bottom in silver and gold. A close above $1781 in gold, would activate a buy trigger. Being in the $1760 range serves as the daily buy signal. If gold goes above $1780, it would bring in the daily, weekly, and monthly signals.
Given the massive short position in the silver market, the Reddit crowd appears to be testing the new lows and getting on the long side of silver against the short sellers on Wall Street. It's just a matter of time before we see the tremendous strength of these new buyers. For silver, a close above $27.08 will activate a day buy trigger. For conservative traders, you can use $27.08 as a protective stop, while aggressive traders can use a maximum dollar stop based on the amount you can afford to lose. The third option is to get out at the end of the day.
Disclosure: I wrote this article myself, and it expresses my own opinions. I am not receiving compensation for it. I have no business relationship with any company whose stock is mentioned ...
more