Silver Is The Canary In The Gold Mine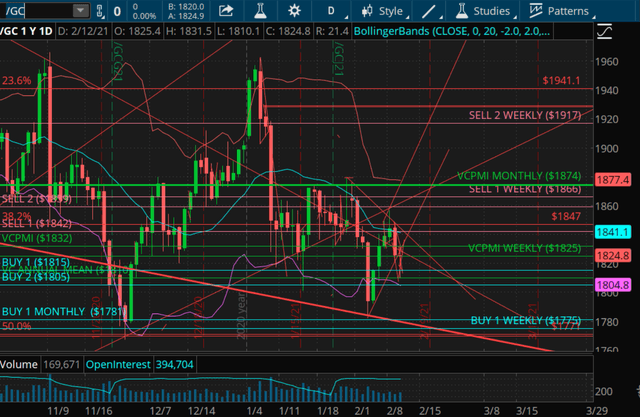 A close above $1874, the monthly level, which would mark a major change. We rallied from $1810 to about $1860, but then supply came in and it reverted back down to where we are now around $1810. We do have a buy trigger activated in the annual VC PMI numbers. The bullish annual trend puts into play the $2164 target for the year running from September to September.
We have been in a trading range from the recent high of $1962 in January to this $1781 level, which represents the 2020 low. We came down again to test that low in February with a low of $1830, not quite making a new low. Now we are reverting from that low. We see a descending wedge back from August when we made a high. We have been in that pattern and now we are building a bottom for the next move up. If we get up above this descending trend line, then we will accelerate up past that $1874 level. The bottom of the wedge is around $1810. The cycles have aligned around $1810. Buy $1810 or lower and sell at $1874, since those levels represent the current trading range. We've been trading in this range since the beginning of the year for the most part. Once we are above $1825, we will move out of this range and bring the target of $1832 into play. $1805 and $1810 appear to be strong levels of support. The market may be getting ready for a turnaround, according to the VC PMI. The longer the price stays around this level, the more worried shorts will become and the more they will begin to cover their short positions. Then we will break out of this descending wedge and confirm that we have put in a bottom.
Disclosure: I am/we are long GDX.
To learn more about how the VC PMI works and receive weekly reports on the E-mini, gold, and silver, check us out on more