Silver Is Sticky Money
The Silver Institute confirms outsized, and growing, investment demand for silver. In a recent note, the Institute highlighted, "…global holdings in ETPs grew by an impressive 331 Moz to end 2020 at 1.04 billion ounces, and since then, global ETP holdings have continued to escalate. Through February 3, ETP holdings rose 137.6 Moz to a new record level of 1.18 billion ounces."
Consider that the total annual supply in the silver market is about 1 billion ounces. So worldwide holdings in silver ETFs now surpass an entire year's supply. And in my view, that's likely to continue growing as interest remains elevated. Here's a little bit of anecdotal evidence. The following Google Trends chart for the search term "buying silver" supports this idea.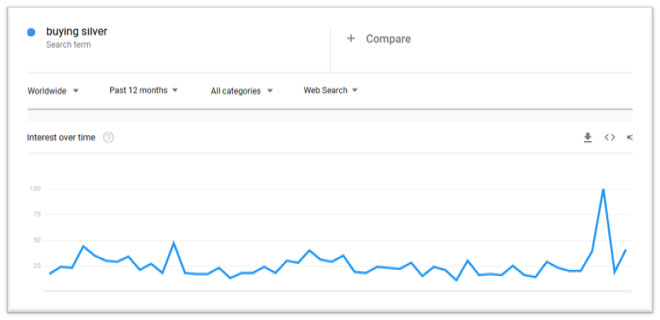 Source: Google Trends
Although the recent massive spike has subsided, it appears to be on the rise again. Per the Silver Institute, "Further upside is expected this year for physical investment, which is anticipated to rise to a six-year high of 257 Moz…This projection reflects current demand in the all-important U.S. market, which has enjoyed a robust start to 2021, with overwhelming demand causing product shortages."
So, with such outsized silver demand, investors who want the real thing have few options but to pay wild premiums and to wait out long deliveries, at least until things return to normal.
But there's one option that could help you bridge this gap.
A Workaround for Huge Silver Premiums
Investors can purchase a silver ETF now in order to gain exposure to silver prices. It's an alternative while they wait for premiums to return to more normal levels.
The Sprott Physical Silver Trust (TSX: PSLV; NYSE: PSLV) is a great option, but I do want to point out that this is not the same as owning physical silver coins or bars. PSLV is a claim on silver through the ownership of trust units, which are convenient exchange-traded shares.