Silver: Industrial Demand Holds The Key To The Short Squeeze
Fundamentals
Central banks and hedge funds still have massive short positions in the Comex Exchange, which exceed $38 billion. They have not decreased their shorts. The market will go against these short positions.
(Click on image to enlarge)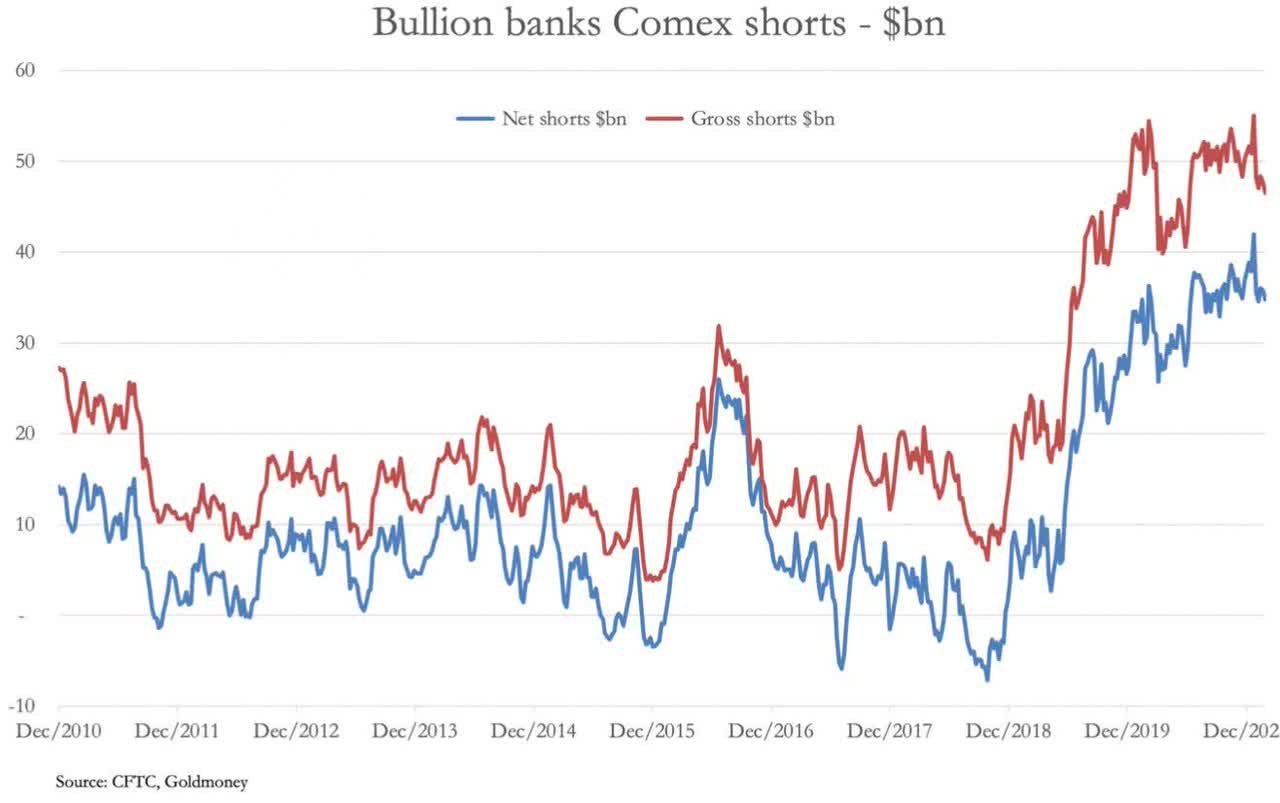 There is a shortage of supply of gold and silver, especially for large deliveries. The 1,000-ounce silver bars, which are used for industrial uses, seem to be getting in short supply. The catalyst for this market exploding to the upside is not Reddit or Wall Street Bets, it is that industrial demand might panic and begin to buy everything in sight on the fear that we are running out of metal supplies. The pandemic has destroyed the supply chain as we knew it. Commodity prices are exploding, including grains, crude oil, and metals. They form the roots of inflation, which as we begin to normalize the economy, the velocity of that demand is going to trigger price inflation for consumers. This is similar to the 1970s when we came off the gold standard for the US dollar, which began its devaluation. Inflation ran into double digits through into the 1980s and gold was at over $800oz and the Dow was at 1,000. The stock market is now at 30,000 plus and the gold market has been the victim of this paper manipulation. Gold competes against the integrity of the US dollar as the world reserve Petrodollar. Gold has been artificially depressed in price by central banks and hedge funds using the paper market to short gold futures. Debt is now more than 100% of GDP in many countries, which also makes gold and silver that much more desirable.
Bitcoin is great, and I congratulate those who have done well with it. However, it has a long way to go before it is a currency. It is not for the masses. Investors are looking for an alternative to the US dollar and they are flooding into Bitcoin. At the Equity Management Academy, we believe far more in the long-term value of gold and silver, which have been assets for thousands of years. Bitcoin should probably be a small percentage of your assets, but I don't think it will change the trust most people have in gold and silver. Any time we have had a monetary collapse or gone to a fiat currency, it has been disastrous and we have gone back to gold. The big question is whether gold will have a role in the future monetary system? Will we go to a gold-backed currency again? It will be interesting to see what happens. Unless the paper currency is backed by some kind of natural resource or precious metal like gold, then the same thing is going to happen over and over again. Governments print more and more money supply and the fiat currency is worth less and less until it is virtually worthless. The IMF is talking about the SDRs potentially as a virtual currency, but they are already doing that to exchange funds between central banks. Are central banks going to introduce a virtual currency? We are at the very beginning of a new monetary system, which still needs to be sorted out. The key is going to be who has the most gold. China, Russia, and Iran have been purchasing record levels of gold. No one knows how much gold China has. These corrections that we get in gold and silver, are contrary to the fundamentals and the overall sentiment of the market, which is extremely bullish long term. Buy the corrections and hold for the long term. It is a critical way to protect your portfolio from the devaluation of the US dollar.
Disclosure: I am/we are long SILJ.
To learn more about how the VC PMI works and receive weekly reports on the E-mini, gold, and silver, check us out on more