Silver Blindness
Snow blindness. First, all you see is snow, and then you can't see anything else. Your corneas get fried by overexposure to UV light. Looking at the top bar of a popular investing site as I type this, all I see is silver: Silver is about to rip people's faces off. It's just a question of when. The big bluff in silver. If all you see is silver, what are you being blind to? There's a benefit to being agnostic about precious metals, as I'll illustrate below.
Agnostic Security Selection
If you're in the business of selling precious metals, you're probably always going to be bullish on them. If you're a follower of Ludwig von Mises, or another hard money advocate, you're probably always going to be bullish on gold and silver as well. Our system starts out agnostic about precious metals and every other asset class, including stocks. Its universe includes every stock, ETF, and ETN with options traded on it in the U.S. Every trading day, it analyzes each of them based on their past total returns and options market sentiment. Sometimes it's bullish on precious metals names, as it was with SLV last Thursday (Silver: This Is Awkward). Sometimes it's not. At the end of last year, it was bullish on silver, with SLV its #1 name. But a hedged portfolio we presented here at the time didn't include SLV. Let's look at why, and what's happened since.
Our Top Names On New Year's Eve
After analyzing every security each trading day, our system ranks them by their potential returns over the next six months, net of hedging costs. These were our top ten names on 12/31/2020.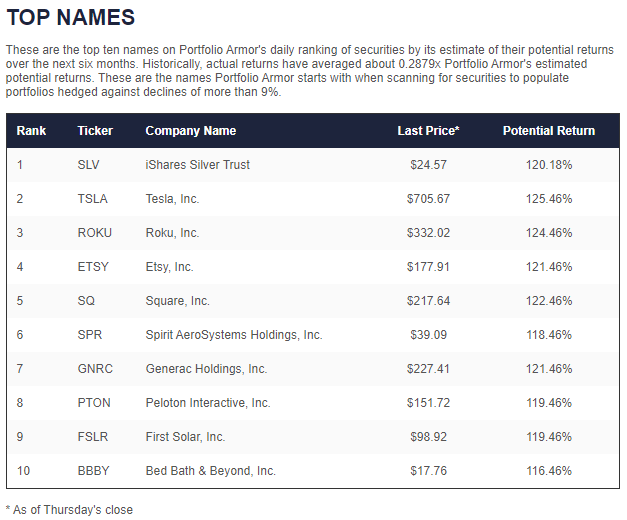 Screen capture via Portfolio Armor on 12/31/2020.
As you can see, SLV was our top-ranked name there. Our potential return estimates there are all in the triple digits; as the screen capture notes, actual returns as of that date had averaged about 0.29x our potential return estimates. Potential returns are bullish estimates we use as a guide to where to try to cap upside when hedging.