Short The Fed, Buy Gold
Yellen is Treasury Secretary. Powell is Fed Chair. And Sanders is head of the Senate Budget Committee.
Most of the time, it's impossible to tell the future. But there are exceptions. Right now, there's no room left to read between the lines. The goals, and outcome, are obvious.
America, along with the rest of the world, is going to try and spend its way out of the pandemic crisis.
This crystal ball is perfectly clear, and Wall Street's been peering into it. That's why stocks are near all-time highs. It's why, increasingly, the savviest managers from corporate America are also catching on, and acting.
It's why Tesla just moved $1.5 billion of its cash into bitcoin. Naturally, that's big news. But what didn't make the Tesla headlines may surprise you.
It's time to manage your cash, with gold.
The Dollar Is Fizzling
Here's what Tesla's latest 10k filing said:
"In January 2021, we updated our investment policy to provide us with more flexibility to further diversify and maximize returns on our cash that is not required to maintain adequate operating liquidity...we may invest a portion of such cash in certain alternative reserve assets including digital assets, gold bullion, gold exchange-traded funds, and other assets as specified in the future." (emphasis mine)
Alternative reserve assets? Gold bullion? Gold exchange-traded funds?
Folks, the writing is now all over the wall. Corporate America is cluing in, but the vast majority of individual investors haven't…yet. It's why gold, silver, and pretty much all commodities have started to run higher.
The dollar is toast.
Look, the dollar's been the undisputed reserve currency for nearly a century. But that's the average life span of a reserve currency going back over 500 years.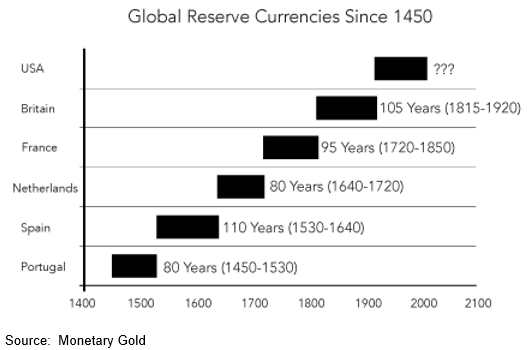 The dollar enjoyed a short reprieve over the last decade or so, but central bank and government reaction worldwide to the Covid-19 crisis was the final straw. The camel's back is now broken.