Saudi Production Cut By 50%: New Income Investments For The Coming Oil Price Spike
I originally wrote this article, and published it two weeks ago. Little did I expect the attack on the Saudi oil infrastructure and the effect on oil prices. Here it is again with additional comments.
For the last three months, crude oil has been stuck in a $50 to $60 per barrel trading range. The WTI benchmark price has lulled traders into thinking that this trend will continue. I have contact with many investors, and I find that many have the viewpoints and beliefs that trends will continue indefinitely. It's hard for many to envision a change in the trend.
The drone attack over the weekend in Saudi Arabia has taken 5 million bpd of production off the table. At least for a short period of time. On Monday the price of crude oil traded up over $5 per barrel or 10%.
When you look at this price WTI crude oil price chart, from the start of 2018, you can see two price run-ups to $75 and $65 per barrel. With the price trending around $55, oil traders are thinking more about the next recession rather than continued economic growth.
I think that $65 to $75 oil will be the next range, once the investing world gets over the belief a recession is right around the corner. Royalty trusts are one investment type that will do very well when oil prices move higher.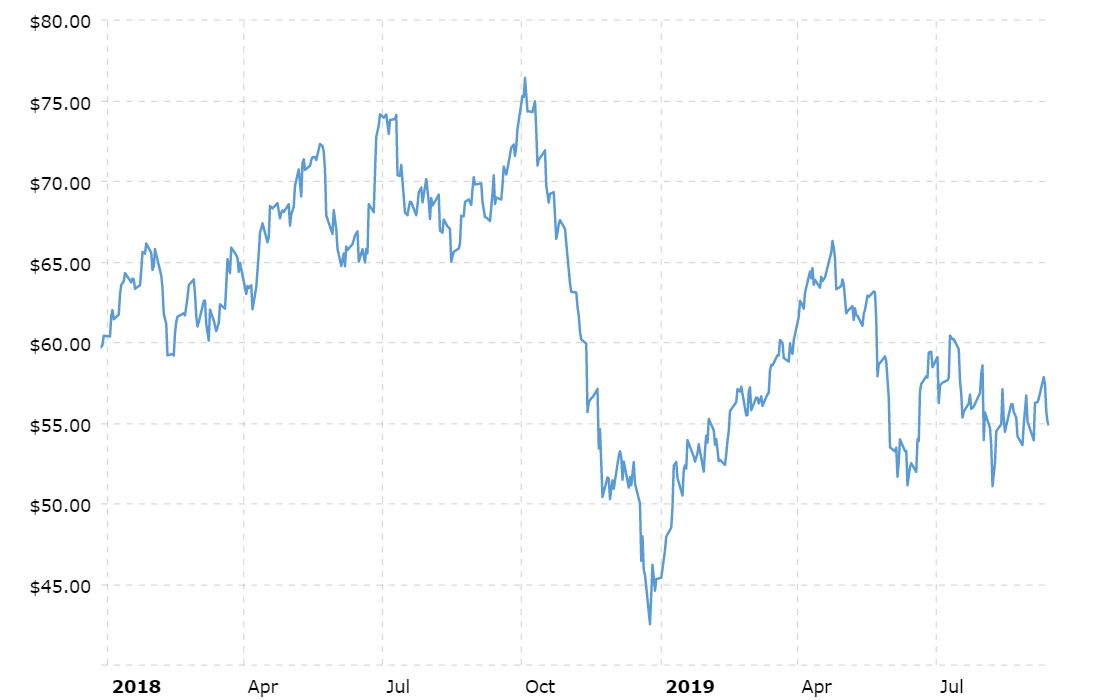 Final thought. Most of the financial news is focused on how fast the Saudis can get production back online. I don't see anyone asking how many more drones are out there pointed at the world's crude oil chokepoint. The weekend attack may not be the last.
Royalty trusts produce income derived from the production and sales of commodities, typically oil and natural gas. This type of investment will produce both a nice income and capital gains as the price of crude oil moves higher.
An energy royalty trust earns all or most of the profits from oil and gas production out of acreage designated to the trust. These are not companies, and there are no management teams. A trustee collects the trust's shares of earned royalties or profits and passes them on to investors.