Precious Metals Now And Then: A Comparison
When making decisions regarding the gold mining stocks sector, some will choose to follow price actions while others will use indicator tools. The Gold Miners Bullish Percent Index (BPGDM) is one such tool, essentially being a gauge of overbought and oversold conditions for the gold mining sector with readings plotted on a range between 0 and 100. Anything below 30 suggests oversold conditions while readings above 70 indicate an overbought situation, with a buy or sell signal being triggered when the index reaches an extreme level and then reverses. Because gold stocks move in tune with gold or silver, the index can be useful in determining the direction of the entire precious metals sector as well as acting like a crystal ball when comparing historical patterns.
BPGDM Reveals That The Outlook For The Precious Metals Is Bearish
Most recently, the BPGDM showed the highest possible overbought reading, which gives us an indication that the outlook for the precious metals is bearish.
(Click on image to enlarge)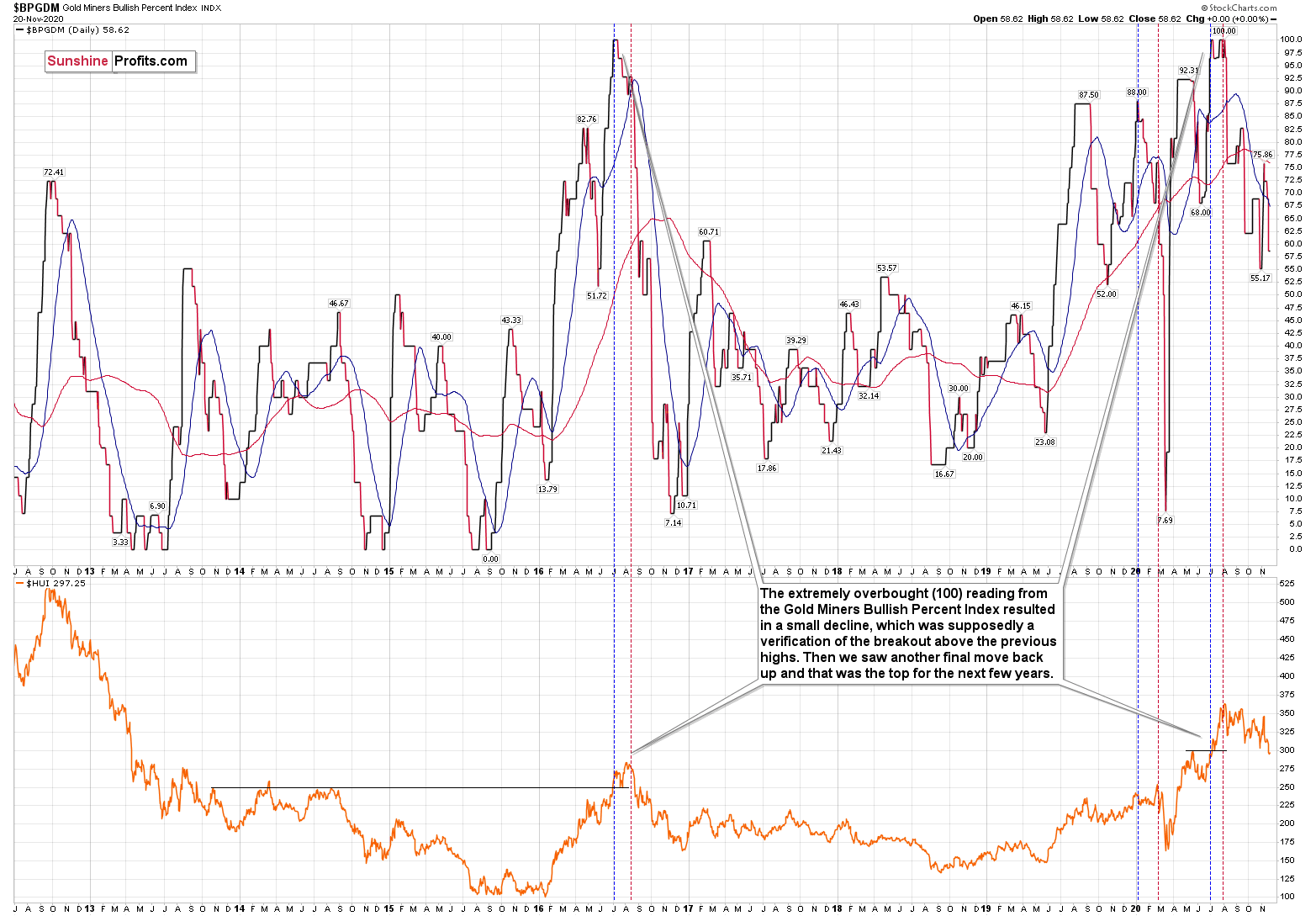 The excessive bullishness was present at the 2016 top as well and it didn't cause the situation to be any less bearish in reality. All markets periodically get ahead of themselves regardless of how bullish the long-term outlook really is. Then, they correct. If the upswing was significant, the correction is also quite often significant.
Please note that back in 2016, there was an additional quick upswing before the slide and this additional upswing had caused the Gold Miners Bullish Percent Index to move up once again for a few days. It then declined once again. We saw something similar also this time. In this case, the move up took the index once again to the 100 level, while in 2016 this wasn't the case. But still, the similarity remains present.
Back in 2016, when we saw this phenomenon, it was already after the top, and right before the big decline. Given the situation in the USD Index, it seems that we're seeing the same thing also this time.
Disclaimer: All essays, research, and information found on the Website represent the analyses and opinions of Mr. Radomski and Sunshine Profits' associates only. As such, it may prove wrong ...
more