Powell Sounds Dovish, But Is He Dovish Enough For Gold?
Not yet. So, as you pointed out, we've said that we would continue asset purchases at this pace, until we see substantial further progress. And that's actual progress, not forecast progress. (…) We also understand that we will want to provide as much advance notice of any potential taper as possible. So, when we see that we're on track, when we see actual data coming in that suggests that we're on track to perhaps achieve substantial further progress, then we'll say so. And we'll say so well in advance of any decision to actually taper.
Third, the Fed Chair reiterated a few times that the Fed's changed its approach and it will not react to the forecast progress, but only to the actual progress, stating that:
the fundamental change in in our framework is that we're not going to act preemptively based on forecasts for the most part. And we're going to wait to see actual data (…) And we're committed to maintaining that patiently accommodative stance until the job is well and truly done.
It makes some sense, of course, but it also increases the risk that the Fed's response to rising inflation will be delayed. The same stance was adopted in the 1970s when the central bankers believed that they would have plenty of time to react to any dangerous increases in consumer prices. But such an approach resulted in inflation getting out of control, leading to great stagflation. Gold shined then.
Implications for Gold
What does this all mean for the gold prices? Well, the latest Powell's remarks were dovish, which should support the yellow metal. But, as the chart below shows, we don't see such support reflected in the gold prices (London P.M. Fix).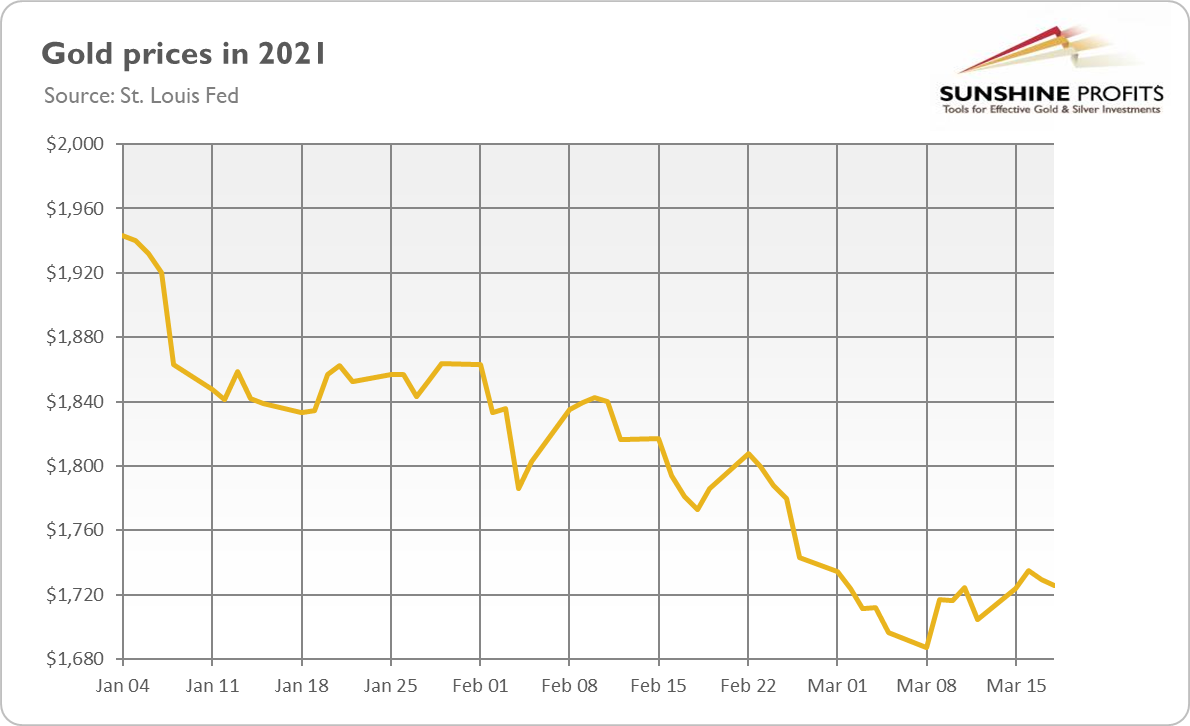 Part of the problem is that the bond yields continued to rise, after a short pullback amid the FOMC statement, exerting further downward pressure on the gold prices. A related issue here is that although Powell sounded generally dovish, he expressed a relaxed view on the current rally in the interest rates. Indeed, when replying to a question on the bond selloff, Powell just said that "we think the stance of our monetary policy remains appropriate". So, his comments imply that the bond yields have room to move further up in the near-term, thus hurting the price of gold.
Disclaimer: Please note that the aim of the above analysis is to discuss the likely long-term impact of the featured phenomenon on the price of gold and this analysis does not indicate (nor does it ...
more