Palladium Pandemonium May Portend A Silver Mania Ahead
In a once-rare property crime now trending higher around the world, thieves are stealing precious metals from automobiles.
These opportunistic criminals don't bother rummaging through glove compartments in the hope of finding stashed jewelry or gold coins. Instead, they go for the near certain score of exposed catalytic converters.
A car's catalytic converter is attached to its exhaust system and converts toxic emissions into less harmful byproducts. It contains corrosion-resistant noble metals – typically platinum, palladium, and/or rhodium – in relatively small quantities.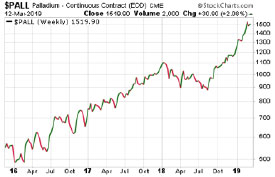 Those relatively small quantities are becoming relatively more valuable, especially in the case of palladium. "Soaring palladium prices are inspiring an unusual band of criminals: catalytic converter thieves," reported the Wall Street Journal.
In February, palladium prices spiked to a record $1,550/oz where they have remained.
Fears of a chronic supply deficit are prompting not only thefts of auto catalysts, but also panic buying of palladium by industrial users and abnormalities in futures and leasing markets including backwardation and double-digit lease rates.
Since early 2016, the palladium spot price has more than tripled – from just under $500/oz. to over $1,500/oz. Despite the huge move, demand for palladium continues to outstrip supply. The move may be far from finished.
However, long-term investors who are focused on finding value – who aim to buy low when markets are depressed and out of favor – likely won't find palladium attractive at these lofty levels.
But they may find palladium's recent tripling encouraging for the prospects of other metals that have been beaten down and overlooked by most investors.
Platinum, for example, now trades at an historically large discount verses its sister metal palladium. The discount (now close to $700/oz) is all the more interesting given that platinum is a viable substitute for palladium in catalytic converters.