Palladium Hits Record High
Gold is no longer the most valuable precious metal! Palladium dethroned it! We invite you, thus, to read today's article about that metal and find out what is the fundamental outlook for the palladium market.
We have a new record! Please take a look at the chart below, which displays the palladium prices since the beginning of the year. As one can see, the price of palladium soared in the first two months more than 20 percent, jumping above $1,500!
Chart 1: Palladium prices from January 2 to March 1, 2019.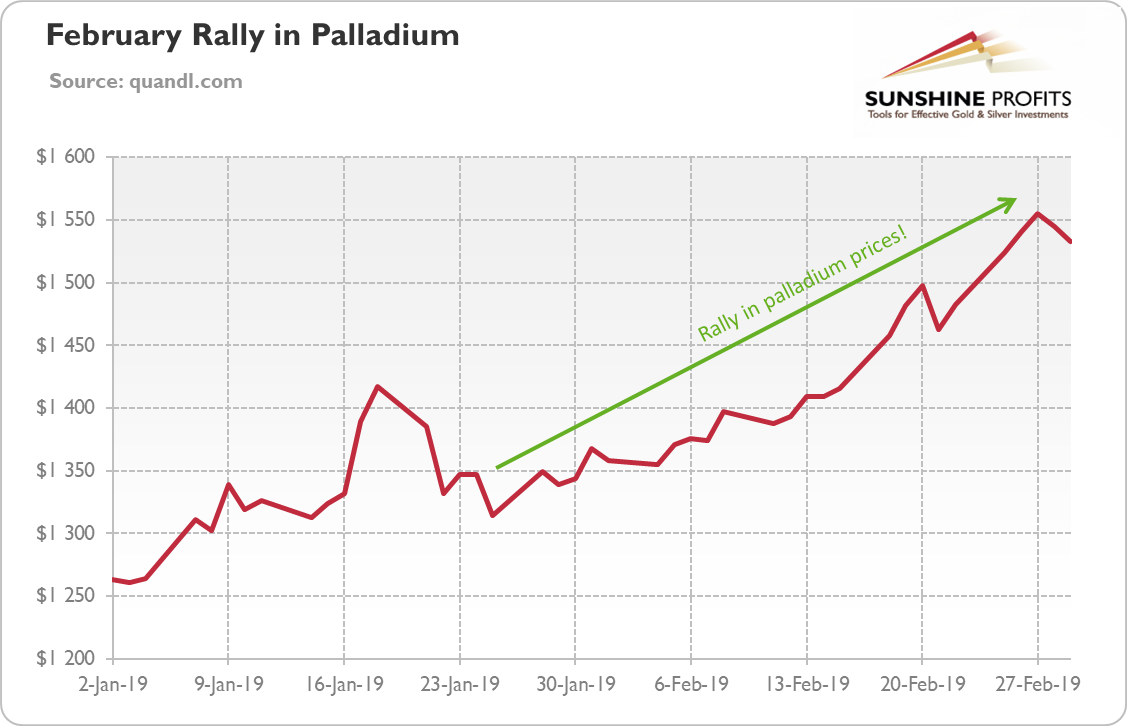 It means that palladium is at an all-time new record high, as the next chart clearly shows. Take a good look. If you do not believe, visit kitco.com. But the figure does not lie – the palladium is really more expensive than gold or platinum right now!
Chart 2: Palladium prices from April 1990 to March 1, 2019.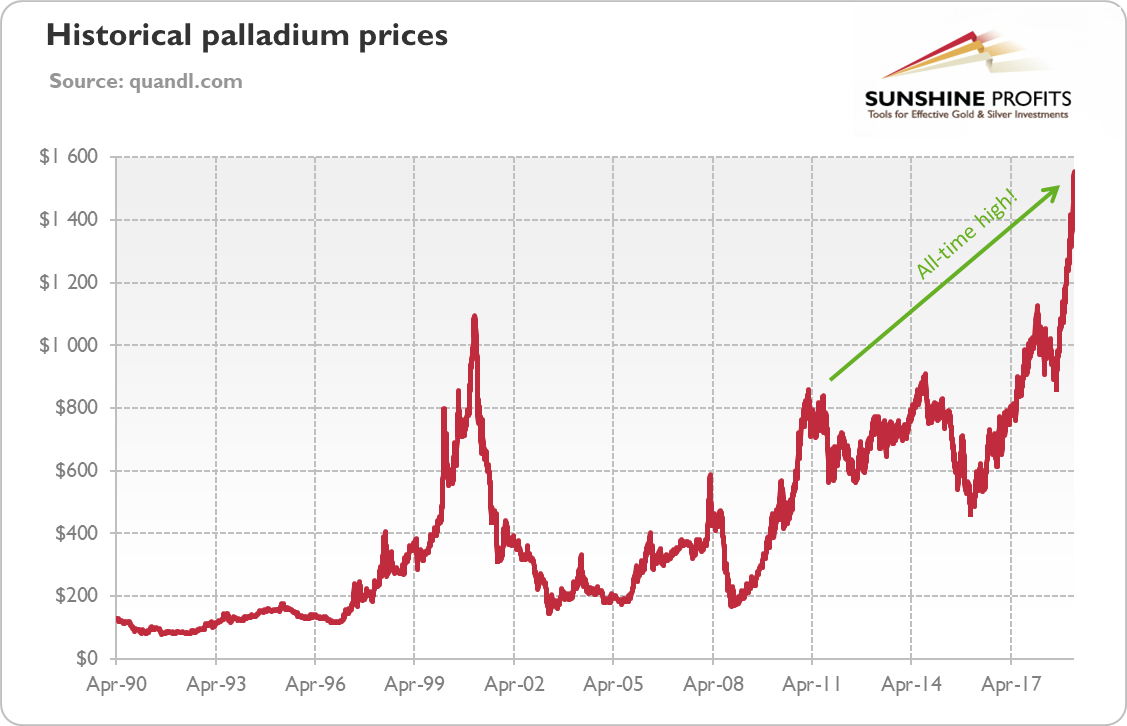 Who would have thought that palladium would shine so bright? Hm… in fact, we thought so! In July 2017 edition of the Market Overview, we wrote the following:
(…) the price of palladium should be supported in the near future. We know that the above-ground stocks of palladium are relatively plentiful (and may be greater than the market expects), but market deficits at such heights cannot last indefinitely – and when the market eventually tightens, prices will need to rise.
And this is precisely what happened. At the end of 2018, the period of extreme market tightness occurred, despite substantial liquidation of stocks. According to the latest Johnson Matthey's Platinum Group Metals Market Report, the underlying structural deficit grew last year and, what is more important, is expected to widen in 2019, which will not be without significance for the price of palladium.
Why is that? The main reason is strong growth in autocatalyst demand due to the tighter emission legislation and stricter vehicle testing regimes. But if the autocatalyst demand is so strong, why platinum – which is also used mainly in the automotive industry – is so sluggish compared to palladium? This is because the latter is used in gasoline vehicles (and in hybrid electric vehicles, which tend to be partly gasoline-powered), while platinum is applied in diesel cars, which are out of favor after the Volkswagen scandal. We pointed out this key factor for the precious metals as early as in July 2017:
If you enjoyed the above analysis and would you like to know more about the most important macroeconomic factors influencing the U.S. dollar value and the price of gold, we invite you to read the ...
more