Oil's Fifth Week Of Profit: Will It Stay Up?
Oil prices are about to close their fifth week of gains, now supported by the agreement between OPEC countries and their partners, including Russia, to gradually increase production from January 2021, expecting global demand to recover, affected by the Covid-19 pandemic.
The price of Brent futures with delivery in February traded this morning with strong increases of just over 2% and, in the middle of the session, it exceeded 49 dollars a barrel, already very close to the February 2020 levels. The WTI also registered increases of around 1% and exceeds 46 dollars, at levels of the beginning of the year.
(Click on image to enlarge)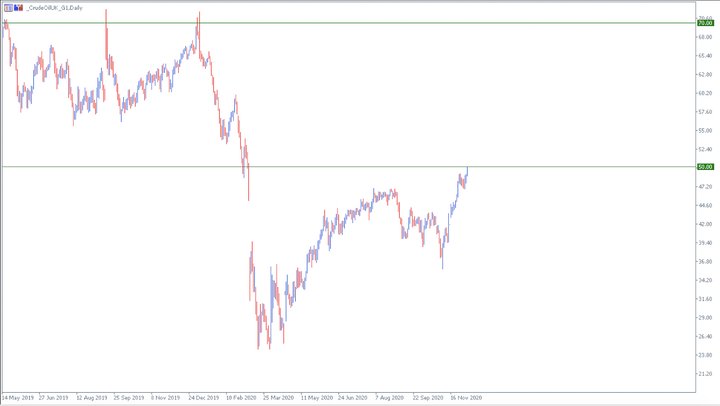 Source: Admiral Markets MetaTrader 5. Brent Futures CFD Daily Chart. Data range: from May 14, 2019, to December 4, 2020. Prepared on December 4, 2020, at 11:30 am CET. Keep in mind that past performance does not guarantee future returns.
OPEC has decided to ease production cuts by increasing production by up to 500 thousand barrels per day starting in January, a measure that will be reviewed monthly.
Disclaimer: The given data provides additional information regarding all analysis, estimates, prognosis, forecasts or other similar assessments or information (hereinafter "Analysis") ...
more