Oil Market Update...
Compared to the wild volatility that we witnessed back in the Spring, trading in oil has become very light and subdued, with volatility in it dropping to a very low level, and as a result, many traders are losing interest in it. It is quiet – too quiet – and complacency towards it is now rife, but as we will see, there are signs that this may all be about to change, and fast.
We'll start by looking at the year-to-date arithmetic chart for Light Crude on which we can see all of the dramatic developments this year. After deteriorating early in the year, the oil price accelerated to the downside, plunging early in March with a big gap down and then it continued to weaken into mid-April when a sudden huge drop left some contracts not just worthless, but actually having negative worth, meaning that if you took delivery you had to in effect pay someone to take it away, for an amount that exceeded what the oil was actually worth. Clearly, this was a situation that was untenable because so much depends on the oil price, so the Fed and the Military-Industrial complex worked all the levers at their disposal to get the price back up again, which of course included creating trillions of new dollars to throw at the problem, and to throw at the markets generally, especially the "window dressing" FAANG stocks. Up to now this has worked and we have seen a recovery rally of astounding proportions in the stock markets, especially the Tech sector, and a respectable recovery in the oil price, and what makes all this even more astounding is that it has happened as the real world economy has been frozen by widespread lockdowns, the main purpose of which is to kill the velocity of money so that the Fed can print trillions and buy up everything without it feeding through immediately into hyperinflation – that will come later.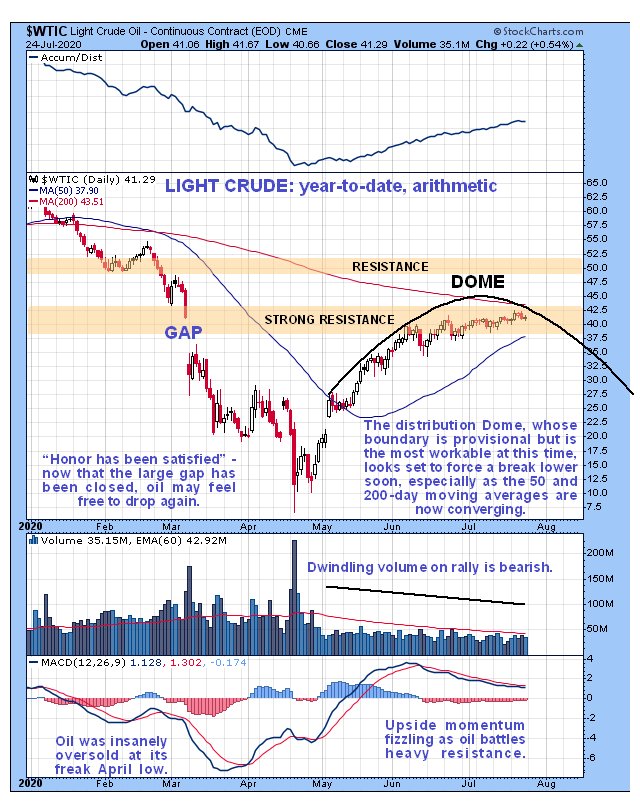 It is worth looking at the log chart for Light Crude for the same timeframe, as it makes starkly clear the enormous percentage swings in the oil price during the period of extreme crisis back in the Spring, and the comparatively miniscule percentage price changes in recent weeks.