Natural Gas Continues To Dig A Deeper Bottom
Ample supplies and a mild winter have caused natural gas futures to drip down into multi-decade low support levels. The market has reached the sub-$2 level a handful of times in the last 20 years, which proved to be a value zone many times. The market still looks negative, but it is time to think about a long term bottom. However, many small traders have been trying to pick the bottom in this market for some time and only have losses and frustration to show for it.
I have been writing for many months that the supplies of natural gas have been burdensome and an extremely cold winter would be one of the few things that could save this market. Mother Nature only served to lead the way for lower prices this winter so far. Prices recently breeched the $2 psychological level and now hover around $1.896.I don't believe the fundamentals warrant a major bottom just yet, but one more leg lower could setup a very attractive risk to reward trade for the long term.
Natural Gas Fundamental Setup
What can I say? It is bad. Inventories are well above the five year average for this time of the year. Natural gas supplies typically get drawn down heavily during the winter months. This winter started off with natural gas supplies at hefty levels and the draw this year has been well below expectations. If this scenario continues through February, the fundamentals will look more negative.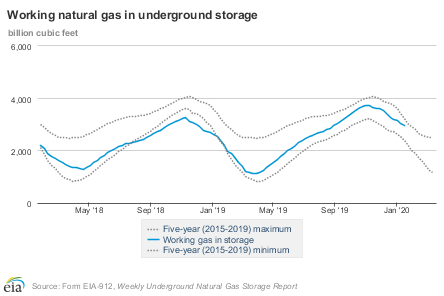 *EIA – period ending January 22, 2020
There has been a good deal of talk about the rig counts dropping for natural gas. The logic is that less rigs drilling should equal less production. That has not really materialized yet. It may eventually be a positive factor, but it looks like the large rigs are having no trouble keeping production rolling. Extreme low prices typically lead to less production for most commodities. The problem here is that natural gas is often a byproduct of drilling for oil. It is doubtful that the pace of oil drilling will decline much unless prices drop into the low 40's.
Disclosure: Past performance is not indicative of future results. Futures trading is not suitable for all investors. The risk associated with futures trading is substantial. Only risk capital ...
more