My Silver Forecast Shows When It Will Top $22
One of silver's biggest strengths is its versatility…
It's a monetary metal, a proper currency. It's a critical industrial material used in everything from automobiles to solar panels. And of course it's an ornament, too, that people wear as jewelry.
Here's the thing… As diverse as it is, the global silver market is relatively "small;" as of 2014, the physical market had about $20 billion in play. So this versatility and small size can add up to volatility. The silver market can explode and recede like a wave, sometimes in very short order.
Silver's price is highly influenced by gold's price, too, though there are many other drivers and catalysts at work.
But right now, silver's relationship with gold and a combination of those other forces are all are working together to ensure that silver is unnaturally, incredibly cheap.
The white metal won't be "on sale" forever, though. I'm recommending we move right now, because I believe we're about to see a huge move up very soon…
High Demand Is Back in Style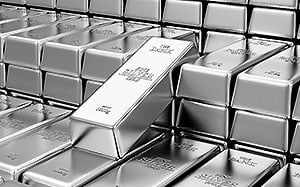 Silver jewelry is back in fashion. And that's great news for silver investors.
A recent survey by the Silver Institute indicates that U.S. silver-jewelry sales rose again in 2015. That makes it the seventh straight year of gains.
Sixty percent of jewelry retailers saw higher sales, with the average increase being 15%. Nearly half of silver retailers said that silver items boasted the highest turnover rate last year.
And those silver-jewelry retailers are pretty confident this trend will continue. Impressively, 87% of retailers said they were optimistic the strong sales of silver jewelry will persist.
That has caused more than half of surveyed jewelry retailers to boost their silver inventory by an average of 21%. So look for jewelry to remain a strong component of silver demand in the future.
But that's just part of the picture.
As it turns out, those who want physical silver aren't just resorting to jewelry; mint sales are way up, too.
People, it seems, simply can't get enough silver coins and bars. The U.S. Mint has sold nearly 15 million ounces of silver American Eagle coins since the start of 2016. That's already 25% higher than by this time last year.