Money Metals Gold, Silver, And The Miners Interview With David Smith
Deutche Bank Confirms Silver Market Manipulation in Legal Settlement
Don't want to listen? Read the podcast below!
Welcome to this week's Market Wrap Podcast, I'm Mike Gleason.
Coming up we'll hear from David Smith of The Morgan Report and MoneyMetals.com columnist. David talks about the bullish market action in the metals so far this year, why the environment figures to be positive moving forward, and why those who haven't secured the low-priced bullion they want yet could be running out of time. Don't miss a fantastic interview with David Smith, coming up after this week's market update.
This week the white metals made some impressive gains. Silver prices broke to new highs for the year, while platinum challenged the $1,000 level and palladium saw a big advance on Thursday.
Silver broke out above the $16 level on Tuesday, recording its highest close in more than 10 months. As of this Friday recording silver trades at $16.20 an ounce and is up 5.1% on the week.
Platinum ran up to the $1,000 level mid-week and managed to finish slightly above it on Tuesday. However, the platinum market pulled back a few dollars on Thursday to negate the potential breakout. Platinum prices currently come in at $986 per ounce, good for a 1.8% weekly gain.
Platinum's sister metal palladium looks higher by 4.2% this week, with prices currently coming in at $567.
Turning to the gold market, the yellow metal saw price weakness as it lost safe-haven appeal. The U.S. dollar and stock market are both gaining on the week as investors turn more optimistic on the economy. The Dow Jones Industrials powered ahead by 350 points to close at new highs for the year on Thursday. Copper and other industrial commodities joined in the party, but gold didn't. For the week, gold prices are down 0.8% to trade at $1,230 per ounce.
The upshot is that the gold to silver ratio is starting to improve in the favor of silver. When silver outperforms, that's generally bullish for the entire precious metals complex. The gold to silver ratio hit a multi-year high of 83 in February. It has since fallen to 76 as of Thursday's close. It could potentially fall a lot further – perhaps back toward the low 30s as was seen at the 2011 high for silver, or perhaps back all the way toward the classic ratio of 16 to 1, although that is a long way off at this point.
Despite the recent strength in silver, oil, and other commodities, the official inflation gauges are barely budging. The latest Consumer Price Index report put out by the Labor Department on Thursday showed that the CPI rose a miniscule 0.1 percent in March. This, after the CPI fell 0.2 percent in February. With no immediate inflation threat, the Federal Reserve will almost certainly opt to keep its benchmark rate right where it's at when Fed officials get together for their policy meeting later this month.
The real question for investors is whether the Fed's ongoing commitment to ultra-low rates will ultimately work to the benefit of stocks, bonds, and other financial assets. Or whether precious metals will be the prime beneficiaries as investors eye overvaluations in financial assets and their susceptibility to rising inflation down the road. A case can be made that precious metals are undervalued in general and that silver in particular is extremely undervalued.
It's important for investors who want to diversify into physical silver or other precious metals that they choose a reputable dealer who offers prompt and reliable service. Customers who buy based solely on slick advertisements or low quoted prices risk getting left holding the bag when a dealer fails to deliver. About 18 months ago, a so-called "low cost" dealer called The Tulving Company went bust. And earlier this month, Northwest Territorial Mint filed for bankruptcy court protection in the wake of a staggering damage award for libel and customer complaints of long delivery delays.
One of David Morgan's ten rules of silver investing is to avoid problems with your dealer. In a recent Morgan Report video presentation, he elaborated on this imperative:
David Morgan: Rule number 5: Do not get a raw deal from your dealer. Because of the specialized nature of the physical precious metals markets, selection of a well-established dealer with a quality reputation is essential. A good dealer will provide timely execution of your trades at fair prices, with reasonable fees. Note, going for the lowest price is not necessarily the best price. In the past, some dealers that squeezed their price margins too low in order to attract clients, were unable to make delivery, leaving those clients holding the bag. Obviously, there's those that shop price only, or, I guess you could say, learn the hard way.
We have said it before – precious metals investors need to be careful about who they deal with. They should take a few minutes to investigate a dealer's online reputation before ordering. They should expect the dealer to provide a firm estimate as to when the order will ship when that order is placed. If the dealer misses that estimate by weeks, it is time to find another source.
Here at Money Metals Exchange, we have quoted shipping delays on certain products in extremely rare situations over the past 6 years. We can think of no legitimate reason for delays of 6 to 8 weeks or longer when it comes to the popular and widely traded bullion coins, rounds, and bars.
Our customer reviews are overwhelmingly positive for a reason, including an A+ rating from the Better Business Bureau, being named the Bullion Dealer of the Year in the United States last year by a global ratings organization who compared Money Metals to 400 other American companies in the field, and having more than 60,000 satisfied customers. So regardless of whether you're a new customer with a small budget or an experienced stacker, you can buy with confidence from Money Metals.
Well now, without further delay, let's get right to this week's exclusive interview.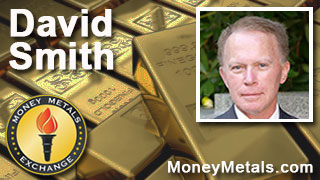 Mike Gleason:It is my privilege now to be joined again by David Smith, senior analyst at The Morgan Report, and regular contributor to MoneyMetals.com. David, it's always great to have you on with us. How are you?
David Smith: Well, it's good to be back, Mike. I'm pretty excited about talking about the metals today.
Mike Gleason: Well, David, we've had some big moves in the metals so far this year. Gold stole the show during January and February, with silver lagging a bit, but now silver is finally playing a little catch-up and has surged over the last week, and recently made a 10-month high at over sixteen dollars an ounce. What do you make of the market actions so far this year, and what do you think is driving the advance in the metals?
David Smith: I think it's very positive. It's fooled a lot of the people that are chartists. They look at these charts and they don't realize that, after five years of decline of a cyclical bear market, that when things turn around, sometimes the rules change a little bit. And these points that they look at that are supposedly providing resistance to upside prices have been cut through like a knife through butter. Now, of course, if you look at the metals today, we're seeing a retrenchment in gold and silver, which is to be expected, and we may see back and forth here for a little while, but I think the tone of the market is different than I've noticed in the last five or six years. The buying that comes in on the mining stocks is very powerful, with a lot of volume. And when the better stocks decline, they do so slowly. I think a person really needs to feel that we're, in all probability, looking at the resumption of the secular bull market in gold and silver, which began right after the 2001/2002 area. And I believe that this leg is going to take us to new all-time nominal and real highs before it's finished in a few years.