Money Is Cheap, Own Gold
But before you start thinking all is fine because we're nowhere near Japanese levels, let me throw some cold water on that thought. Consider that a study by the World Bank suggests national debt-to-GDP ratios above 77% for extended periods cause a significant slowing in economic growth. In fact, it concludes that each percent above 77% actually costs 1.7% of economic growth.
And for perspective, U.S. debt-to-GDP peaked at 106% after World War II, then dropped consistently to a range of 30%–40% in the 1970s. Levels have risen since then, but the mortgage crisis that became a financial crisis in 2008 pressed down on the accelerator, and the 2020 COVID-19 pandemic has the pedal pressed firmly against the floor.
Prices Soar
The U.S. Department of Labor reported that the Consumer Price Index climbed 4.2% from April 2020 to April 2021. This means consumer goods prices have jumped the most in any 12-month period since 2008.
Many of the trillions of dollars we've added to our collective debts have started floating around. There are few goods and services we can point to that haven't soared in price.
Food is no exception. The UN's Food and Agriculture Organization (FAO) food price index tracks international prices of the most globally traded food commodities. From mid-2020 to end-March, (except for meat, so far) food prices had risen for nine straight months. In fact, every food had set new three-year high levels, other than meat, which may be undergoing substitution.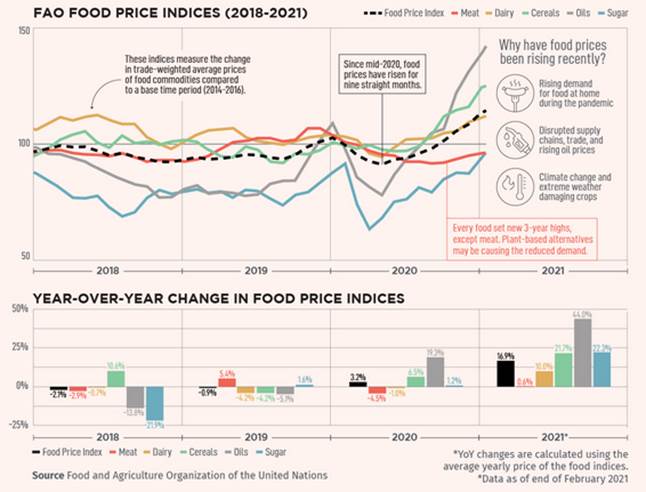 Source: visualcapitalist.com
Of course, even under pandemic restrictions and lockdowns, people still had to eat. So that helps explain support and strength in food prices. But it goes way beyond food.
Major international consumer goods producers Procter & Gamble, Kimberly-Clark, and Coca-Cola all recently cautioned they will be raising prices as their raw materials costs have risen.
This next chart demonstrates that in spades.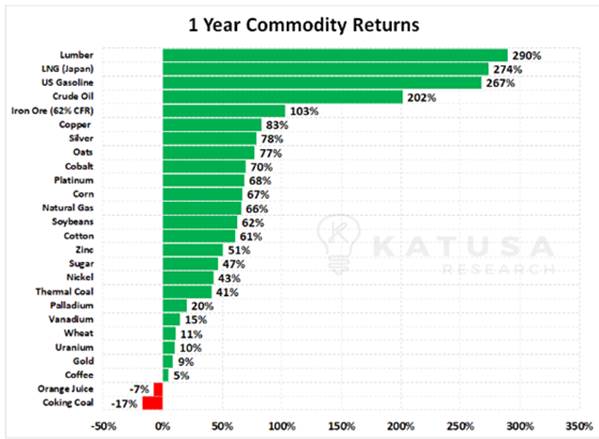 Source: Katusa Research