Money Is Cheap, Own Gold
Sure, Mr. Biden, money is cheap. But whose money is it?
The White House recently sent a $6 trillion budget plan to Congress.
Let that sink in for a moment.
Biden's first wide-ranging budget calls for big spending on infrastructure, education, and, of course, climate change. His plan lays out $6 trillion in spending against just $4.2 trillion in revenues. That's an enormous 37% bump up from 2019 spending levels, and it suggests a deficit of $1.8 trillion, nearly double that of 2019.
The idea is to spend now while money is cheap, with interest rates at historical lows. In fact, they're at the lowest levels in 5,000 years of history.
Bernie Sanders said it was "the most significant agenda for working families in the modern history of our country," explaining that the budget would reduce poverty through the formation of millions of good-paying jobs.
But deficits pile on to become debt. Repaying that debt becomes a massive burden, so governments use financial repression by keeping interest rates low. That eases the challenge of repayment, but it leads to big inflation.
So, the next generation's best hope is to shield itself with hard assets, with gold chief among them.
A Debt Explosion
It took the U.S. 211 years, from 1789 to 2000, to rack up $5.7 trillion in debt.
From 2000 it had doubled, within just nine years, to $12 trillion in 2009. Since then, it has more than doubled again, currently weighing in at $28 trillion.
More than half of the entire U.S. public debt, over its 230-year history, has been created in just the last decade.
This chart shows quite clearly that things accelerated in 2000 and then exploded higher with the Global Financial Crisis. The COVID-19 pandemic has just added gasoline to that fire.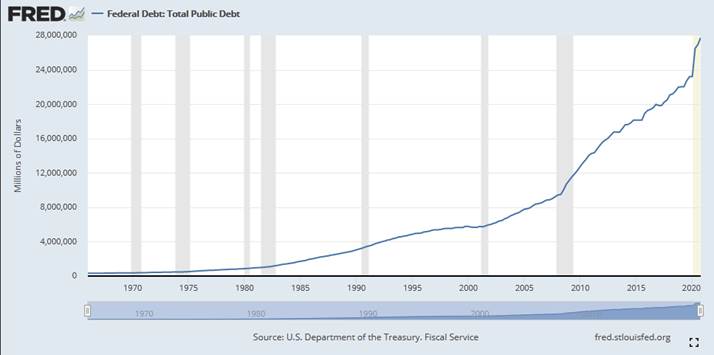 And now we're looking to pile on even more.
According to the IMF, at $28 trillion, U.S. debt is about 133% of GDP. Italy is at 157%, Canada is at 116%, France is 115%, the U.K. at 107%. For comparison, Japan's debt is near 257% of GDP.