Market Volatility Skyrocketing, Precious Metals Start Strong In 2019
Listen to the Podcast Audio: Click Here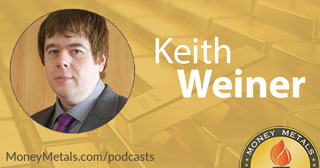 Precious metals markets are off to a strong start in 2019. Gold and silver both closed Thursday at multi-month highs as the stock market reversed sharply to the downside.
Investors were disappointed by manufacturing data showing a slowdown in industrial output. They dumped economically sensitive stocks and bid the U.S. dollar lower on foreign currency exchanges. Markets now expect the Federal Reserve to pause its rate hiking campaign and possibly even begin cutting rates later this year.
The weaker dollar helped boost crude oil and precious metals prices. The energy and mining sectors are among the only gainers in the stock market. The HUI gold miners index closed at a 5-month high on Thursday.
As for gold itself, it's down a bit today with spot prices currently coming in at $1,284 per ounce, now up a mere 0.1% this week. The physical gold market is likely to tighten this year. Analysts at Refinitiv GFMS project gold mining output will decrease slightly – from approximately 3,282 tonnes in 2018 to 3,266 tonnes in 2019.
Physical silver could also see pressure from diminished mining capacity and rising investment demand as prices recover and attract more mainstream attention. Silver shows a gain of 1.9% this week to trade at $15.72 as of this Friday morning recording.
Platinum is up 2.6% to $817 an ounce. And finally, palladium continues to stay hot after putting in a record breaking 2018. It's having a great day so far today and is now up 3.9% in the first week of trading of 2019 to come in at $1,308.
A reckoning is coming. Maybe not in 2019. But almost certainly by the mid 2020's, some kind of funding crisis will hit.
In a few short years, waves of retiring Baby Boomers will drain Medicare and Social Security. The programs will require a massive multi-trillion dollar bailout. But the government will likely be running routine annual budget deficits of over $1 trillion. It will be carrying a growing debt-to-GDP ratio spiraling toward third world levels that historically trigger default or hyperinflation.