Majority Of Silver Miners Sustaining Cost Significantly Higher Than Market Price
The Primary Silver Miners latest results were quite dismal as their All-In Sustaining Costs to produce silver was considerably higher than the market price. Many of the silver miners' production costs increased in the third quarter of 2018 due to higher energy, material, and labor costs.
Only one silver mining company out of the group posted a profit of $6.8 million for the quarter, and that was Fortuna Silver Mines (FSM). The biggest loser was Coeur Mining (CDE) which suffered a $53 million loss for the period. Even the largest silver miner in the group, Pan American Silver (PAAS), reported a surprise loss of $9 million Q3 2018.
Now, according to the silver mining companies All-In Sustaining Costs (AISC), only two were lower than the current silver market price: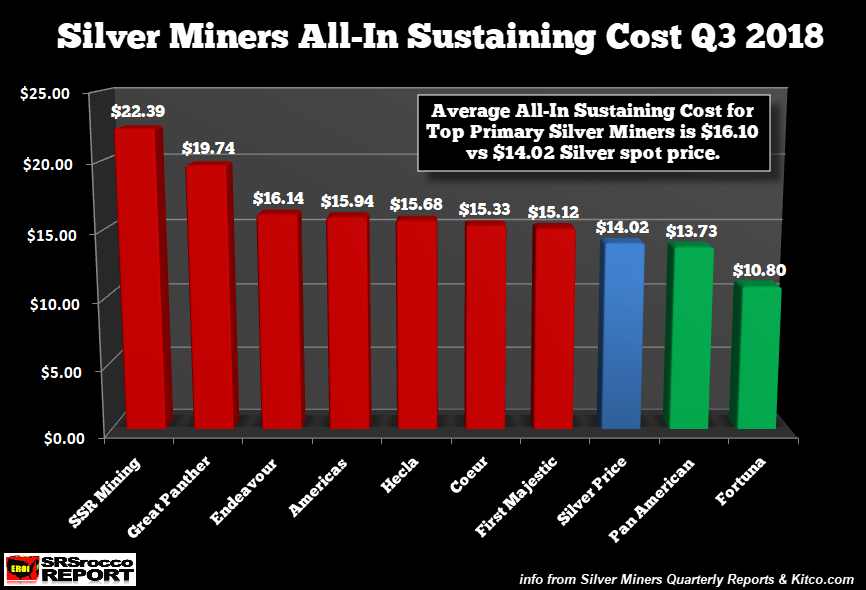 When I put together this chart, the silver price was trading at $14.02 but has jumped up to $14.17 as the broader markets continue to sell off. However, as we can see, seven of the nine top primary silver miners AISC is higher than the silver market price (BLUE BAR). The highest AISC of $22.39 per ounce is awarded to SSR Mining which changed its name from Silver Standard. SSR Mining (SSRM) is mostly a gold mining company with a very high-cost open-pit silver mine in Argentina called their Puna Operations.
Back in the heyday, Silver Standard's Piquitas Operation in Argentina was producing nearly 9 million ounces of silver (2012). Unfortunately, SSR Mining shut down operations at Piquitas last year and is now only processing stockpiles. So, with just processing stockpiles, SSR Mining's AISC is $8 more than the current silver market price.
While Pan American Silver and Fortuna published lower AISC's than the silver market price, the average AISC for the entire group was $16.10.Even if I was to remove the highest (SSR Mining @ $22.39) and the lowest (Fortuna @ $10.80), the average All-In Sustaining Cost of these miners would still be $15.95. Thus, the top primary silver miners average AISC is $2 higher than the present silver market price.