Macroeconomic Outlook For 2019 And Gold
Will 2019 be better than 2018 for the yellow metal? We invite you to read our today's article, painting the macroeconomic outlook for 2018 and learn whether fundamental factors will become less or more friendly toward gold.
What will 2019 be like? We do not know the precise answer, but we notice a few important economic trends that will shape the new year.
We will analyze them now for you, as we believe that investors need a clear guide to navigate themselves through choppy waters of our volatile economy. Without a broader fundamental perspective, it's easy to get lost in the thicket of daily news.
As we predicted, the long-term interest rates climbed in 2018 (see the chart below). We expect them to rise further this year. This is because the Fed will continue its tightening cycle, even if it pauses for a while. Higher short-term rates should translate into higher real long-term rates.
Chart 5: US nominal (green line) and real (red line) interest rates from January 2014 to December 2018.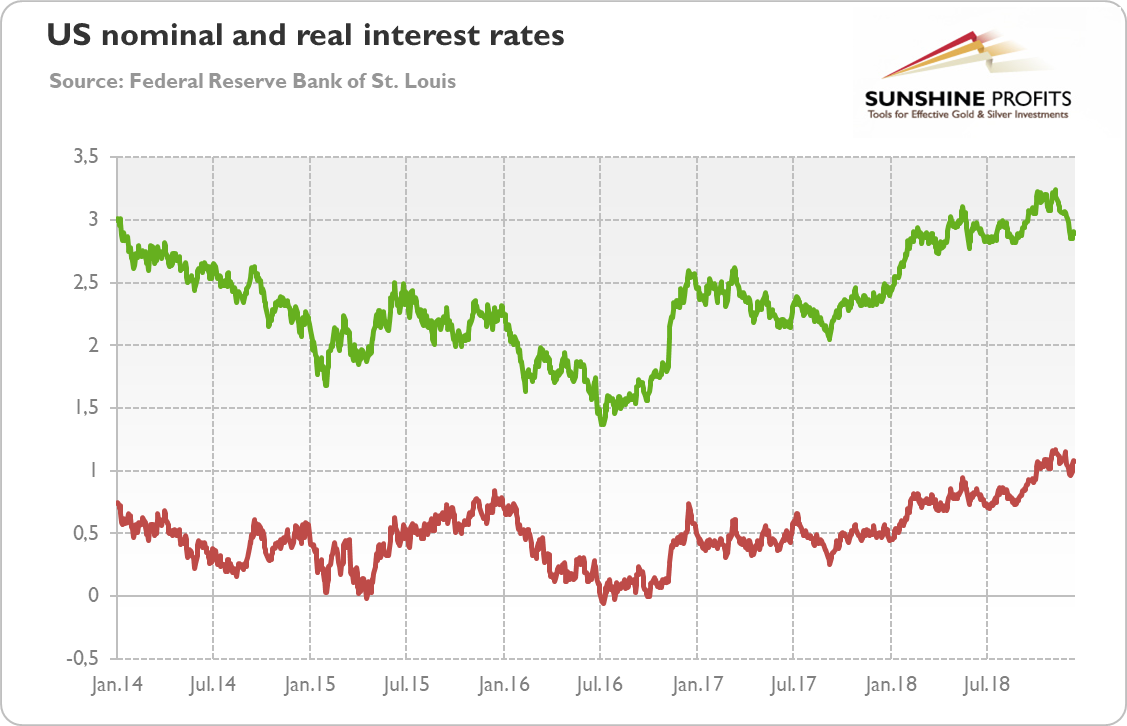 Moreover, the US fiscal deficit will exert upward pressure on the interest rates, as Treasury will have to compete for limited funds. And with stronger inflationary pressure in 2018 than in the last few years, people may demand higher inflation premium, pushing the interest rates further. This trend will exert downward pressure on the gold prices, as higher rates mean a raise in opportunity costs of holding gold. They also support the US dollar, the greatest enemy of the yellow metal. At the same time, we do not expect that inflation will get out of control, so the demand for gold as an inflation hedge should remain in dormancy.
If you enjoyed the above analysis and would you like to know more about the most important macroeconomic factors influencing the U.S. dollar value and the price of gold, we invite you to read the ...
more