Macro Matters: Gold, USD, Equities Pullback - More In Store?
NEW QUARTER, NEW QUESTIONS
We're now just over a week into Q3 and already some items of interest have begun to show around global markets. While headlines remain a mess with heavy politicization of the coronavirus, which can bring a massive impact on market expectations, the trends across risk markets have remained fairly clear. Stocks have been very strong since the March lows, and given the expectation for the FOMC to remain very loose and passive in the effort of offsetting coronavirus-slowdown risks, Gold prices have driven up to a fresh eight-year-high.
Perhaps surprisingly, the USD has shown a general proclivity to range over the past few months, with the bulk of Q2 spent in mean reversion and, so far that's been the name of the game in early Q3 trade. To be sure, there was a quick spurt of trend in late-May and early-June; but after DXY ran into the key support zone running from 95.86-96.05, sellers were thwarted and the currency moved into a range bound state that held through the end of Q2 and, so far, the open of Q3.
US DOLLAR FOUR-HOUR PRICE CHART
(Click on image to enlarge)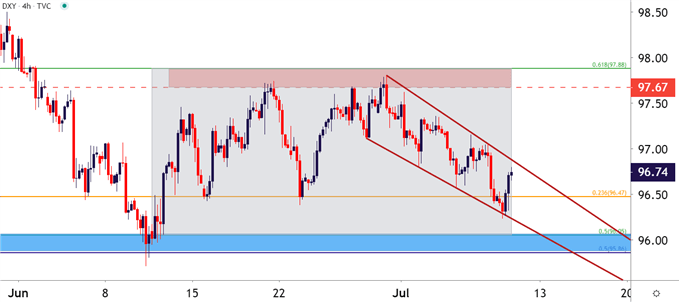 Chart prepared by James Stanley; USD, DXY on Tradingview
The importance of the support zone around 95.86-96.05 cannot be understated: This is a confluent support zone that helped to set the low for the final ten months of 2019. There were three separate tests in this area, each of which saw buyers come into the equation, and those took place in February, March and June.
This zone even helped to hold the early-March lows, as USD was selling-off with aggression as the coronavirus was getting priced-into markets. There were two days in which price action tested below this key zone of confluence, but buyers quickly brought the currency back-above as the USD rallied by 8.8% in a ten-day-span.
US DOLLAR WEEKLY CHART
(Click on image to enlarge)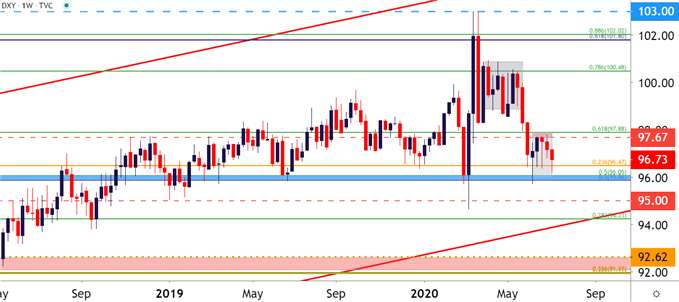 Chart prepared by James Stanley; USD, DXY on Tradingview
S&P 500 PULLS BACK, FINDS SUPPORT AT KEY ZONE
I want to address this up front because I've already seen it said on social media regarding this morning's equity pullback. Some have called this a 'crash' in the market, with the S&P 500 pulling back to the 3110-3115 area on the chart. And there's a lot of pessimism out there, as some of those coronavirus-related headlines look pretty dire and could be projected to produce some element of disaster down-the-road. And sure, that might happen; but as of right now, there's little evidence to suggest that it's anything more than a possibility as the S&P 500 is currently up by around 44% from the March lows.