Letting The Fed Be Your Friend
Let's say you own 500 shares of UGL and can tolerate a 20% drop over the next several months, but not one larger than that. Here are two ways you can hold it will strictly limiting your risk.
Uncapped Upside
As of Friday's close, these were the optimal puts to hedge 500 shares of UGL against a >20% drop by mid-January.
(Click on image to enlarge)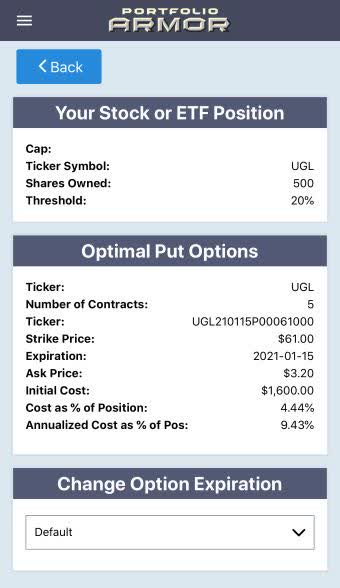 The cost here was $1,600, or 4.44% of position value (calculated conservatively, using the ask price of the puts; in practice, you can often buy and sell options at some price between the bid and ask).
Capped Upside, Negative Cost
If you were willing to cap your possible upside at 20% by mid-January, this was the optimal collar to protect against a >20% decline over the same time frame.
(Click on image to enlarge)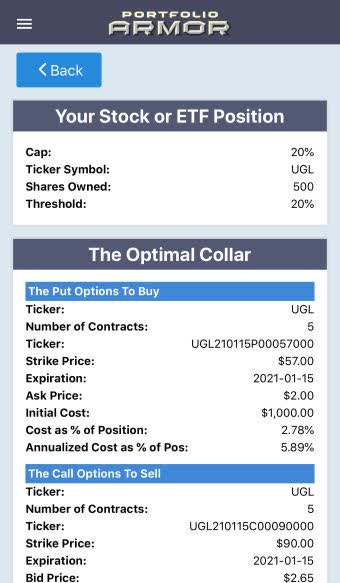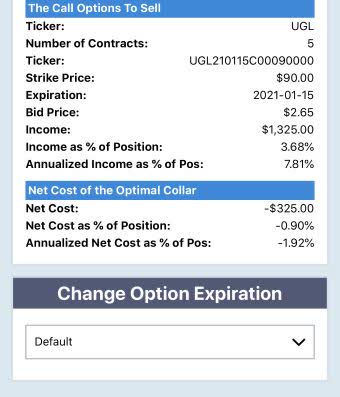 Here, the net cost was negative, meaning you would have collected a net credit of $325 when opening this hedge, assuming you placed both trades (buying the puts and selling the calls) at the worst ends of their respective spreads.
Another Advantage Of Precious Metals Names
One advantage of precious metals names, in addition to benefiting from loose monetary policy, is that they can benefit from a flight to safety as well. We saw examples of that with our hedged portfolios that finished their 6-month runs last spring, such as the one below created on October 31st of 2019, which included the SPDR Gold Trust (GLD) and the Aberdeen Standard Gold Shares (SGOL).
(Click on image to enlarge)