It's Too Early To Buy Oil
Oil was mostly flat this week, and the broad market continued to grind higher. Oil is in a unique situation in that the technical risk is largely gone in oil, but the broad market positioning suggests a euphoria that has been very rare since the financial crisis. This creates a risk for oil.
(Click on image to enlarge)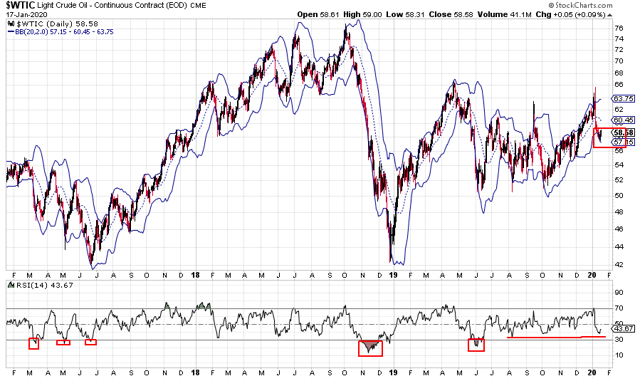 The above chart is the 3-year daily chart on WTI. Technically, oil is in a tempting position here. Only 5 times over the last 3 years has oil moved markedly lower on it's RSI (red rectangles). That means that it is very rare for oil to move lower once it has sold off like it has over the last two weeks. Also, WTI hit it's lower Bollinger band and then consolidated. That is a sign that I look for in the bottoming process. These momentum measures suggest the technicals are bullish in oil.
(Click on image to enlarge)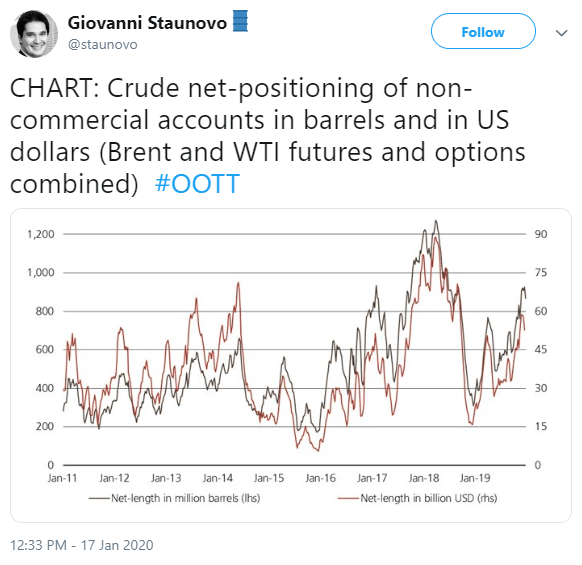 Giovanni Staunovo's above tweet shows that crude positioning is still relatively bullish according to COT Data. This bullish positioning is a bearish factor in WTI. Fundamentally, buyers and sellers are what move markets. The above positioning shows that many traders are still long WTI. This means that there are many potential sellers and relatively few potential buyers that could drive up the price. As can be seen from Giovanni's tweet, there was only one period (2018) when there was more net-long positioning making it unlikely that more buyers go long WTI in the short term. It will take multiple bullish factors to push oil higher in the short term due to a lack of potential buyers. When considering the risk-reward dynamic, it is prudent to buy an asset that has many potential buyers opposed to many potential sellers that could drive down the price.
Oil's singular biggest risk is the broad market's over-extended technicals. That does not guarantee a sell-off, but it means the risk is there.
(Click on image to enlarge)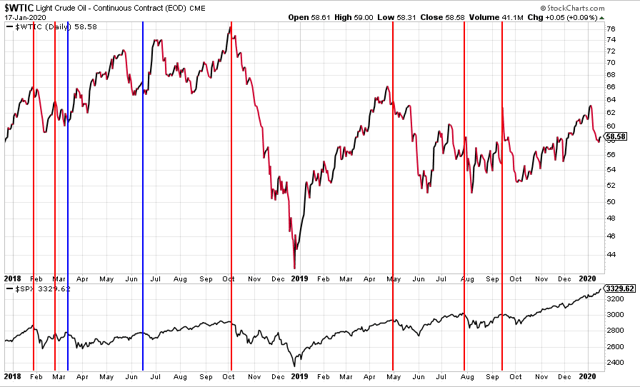 Over the last 25 months, a broad market sell-off correlated with a sell-off in oil 75% of the time. The red lines indicate when oil and the broad market sold off together, and the blue lines indicate when oil escaped a broad market sell-off. This suggests that if the broad market sells off, oil has a good chance of selling off in sympathy.