It Might Be A Long Wait Before Natural Gas Bottoms
Natural gas is suffering the woes of plentiful supplies this year and the lack of a catalyst to push prices higher. As a result, natural gas futures prices have dropped about 28 percent from the peak this year in March. The fundamental picture doesn't look good at this point and the market will probably need some significant and unexpected development to push prices out of the cellar. Currently, the best thing natural gas might have going for itself is the price has gotten very low.
Natural Gas Supply Situation
In the latest supply numbers released from the US Energy Information Administration – EIA as of August 16, working natural gas in storage was 2,797 Billion cubic feet. This is 369 Bcf higher than last year at this time and 103 Bcf below the five year average of 2,900 Bcf. Some might look at this and focus on the fact that supplies are 103 Bcf below the five-year average. However, the main concern here is that natural gas supplies are 369 Bcf higher than last year.
(Click on image to enlarge)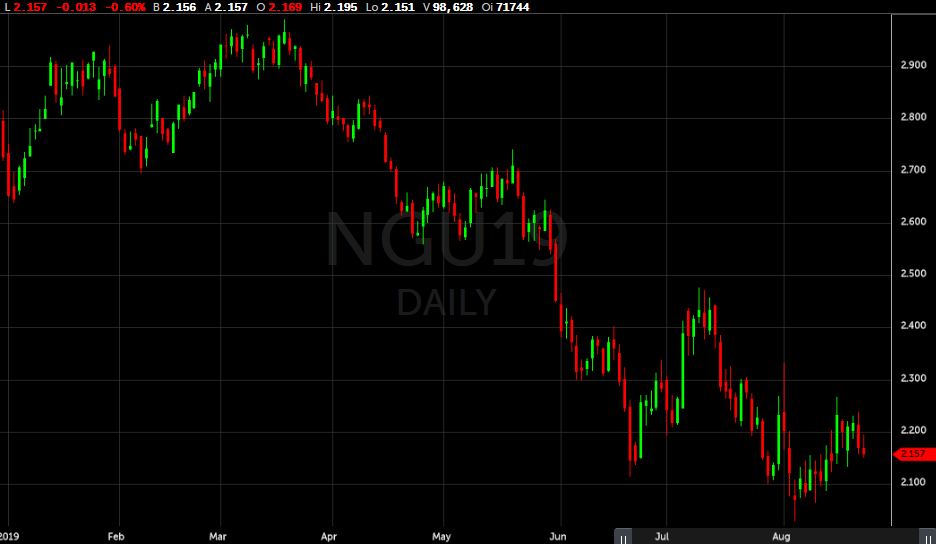 Supplies are building and abundant at this time. That is typically not a good formula for prices moving higher. There were a number of natural gas plants that were down for maintenance, but they are coming back up on schedule. There really aren't any known issues in the market that would cause a loss of production in the foreseeable future.
(Click on image to enlarge)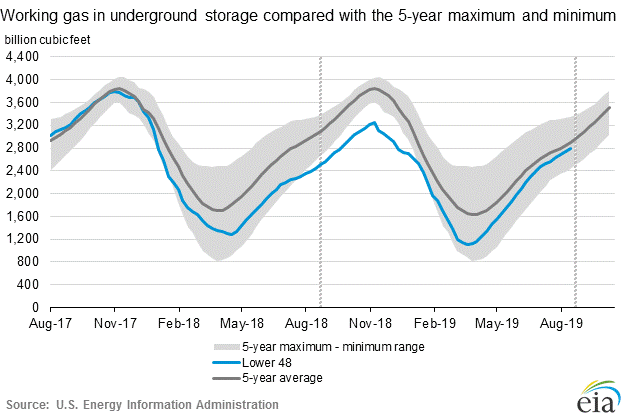 In the graph above, it is important to watch the trend of the blue line (current supply) versus the grey line (5-year average). The blue line is catching up to the grey line, not moving away from it. This indicates that the trend in supplies is growing at a higher rate and that should be negative for prices going forward.
Why Supplies are Building in Natural Gas
There are two main issues to explain this. This first is that the economy may be slowing slightly and this summer didn't have extreme heat. This would certainly lead to mild demand and allow supplies to build. The second consideration is that the US is producing a great deal of energy. Oil production is running at a torrid pace and doesn't appear to letup any time soon. Much of this is attributed to production from the shale formations like Marcellus, Bakken, Eagle Ford, and Permian Basin.
Disclosure: Past performance is not indicative of future results. Futures trading is not suitable for all investors. The risk associated with futures trading is substantial. Only risk capital ...
more