Is The Gold Trade Really Over?
What's going on with gold? While most stocks and many asset classes continued to move higher in the back half of 2020, gold showed a decline of roughly 15% from peak to trough. Thus far this year, gold is down by around 3%, relative to the S&P 500/SPX's (SP500) gain of about 1%.
If we look at gold miners, the image is even worse: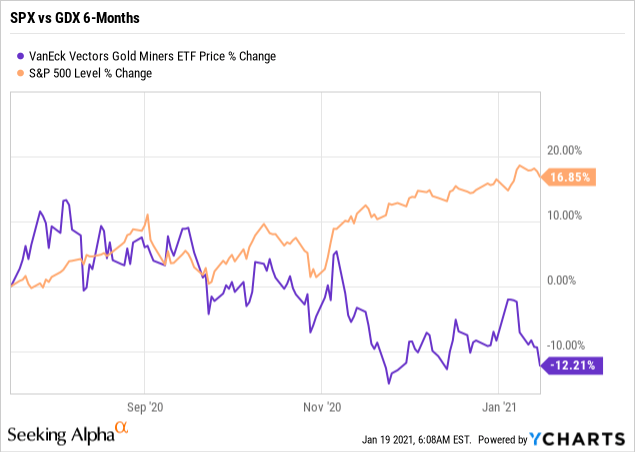 Data by YCharts
The past six months have been tough for the gold mining space. We see a clear underperformance here as we look a the SPX's 16.85% gain vs. VanEck Vectors Gold Miners ETF's (GDX) decline of 12.21% in the same time frame.
GDX 1-Year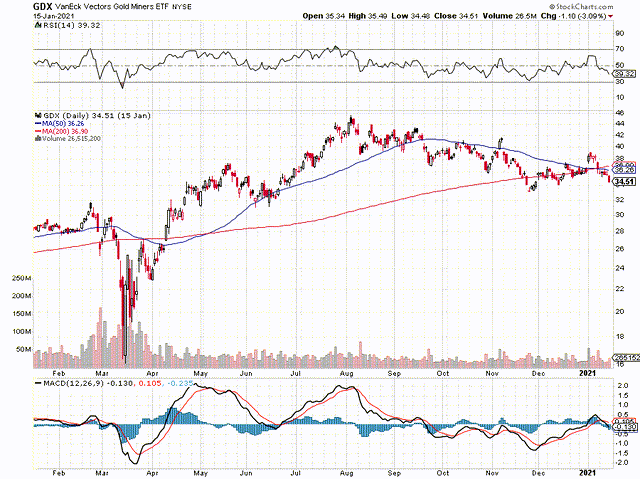 Source: StockCharts.com
If we take a closer view, it's even worse, about a 25% decline in GDX from the highs reached in early August 2020. This relative underperformance has some former gold enthusiasts asking if the gold trade is over.
Putting Things in Perspective
Granted, the past six months have been difficult for the gold space. However, to get a clearer image let's take a longer-term view.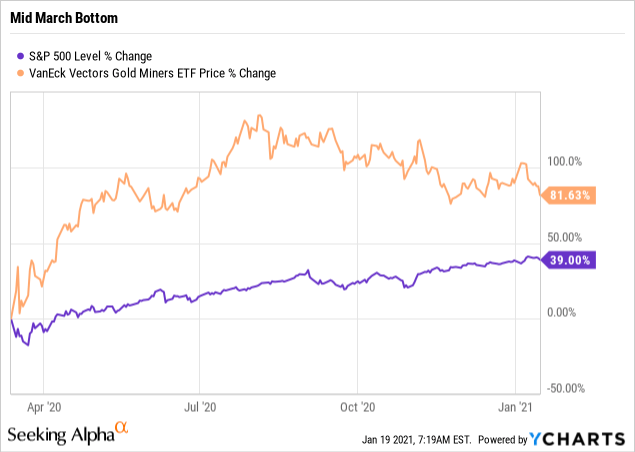 Data by YCharts
So, if we look back a bit further, we see that despite the gold miners' recent rout, returns have roughly doubled the SPX's since around the mid-March bottom. In fact, it doesn't matter if we go back one three or five years, GDX illustrates clear outperformance over the SPX.
Yes, but Why is Gold Going Down Lately?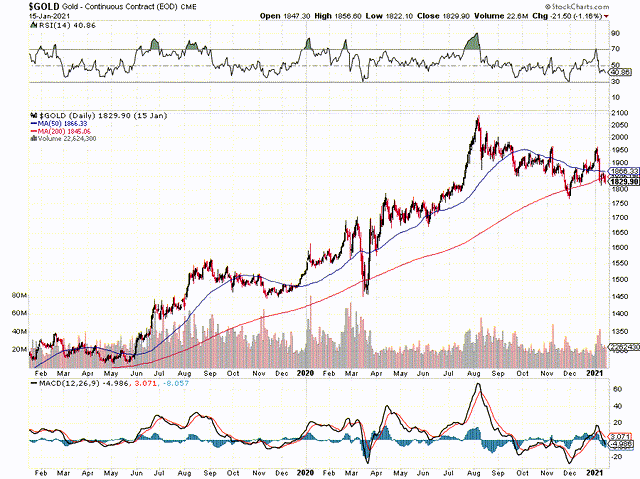 If we disregard the recent slump, we see that gold had appreciated by roughly 70% in slightly over a year (May 2019 - 2020 August ATH). This is quite the move for gold in a relatively short period of time. Moreover, GDX was up by well over 100% over the same time frame, and had skyrocketed by approximately 188% from its mid-March bottom to its early August top in 2020. Therefore, the recent declines could be due to a prolonged correction in a long-term bull market cycle.
10-Year Treasury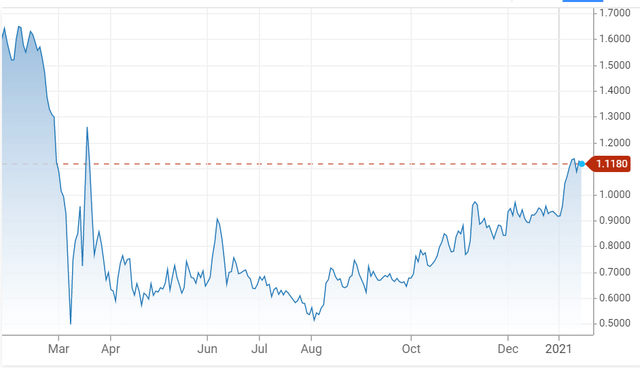 Source: CNBC.com
There's been some talk that gold is going down because of a rise in interest rates. So, the 10-year has nearly doubled since it bottomed in early August of last year. However, I don't think that rates are likely to go notably higher or even stay elevated for a prolonged time frame. This is unlikely due to enormous national and overall debt loads in the U.S. The economy is not likely to illustrate adequate growth in a higher rate, or in a "normalized" rate environment for that matter.
Disclosure: I am/we are long GDX GDXJ KGC KL NEM. I wrote this article myself, and it expresses my own opinions. I have no business relationship with any company whose stock is mentioned in this ...
more