Inflation Soared In March. Will Gold Jump Too?
Inflation accelerated its pace in March, which should support gold when economic confidence softens.
The U.S. CPI inflation rate rose 0.6% in March, following a 0.4% increase in February. It was the biggest monthly jump since August 2012. The move was larger than most analysts expected. However, I'm not surprised at all, as after February's CPI report, I wrote that inflation "may rise further in the coming months".
The acceleration in the inflation rate was driven mainly by a 9.1% spike in the gasoline prices over the past year (in March 2020, the price of oil plunged). But the core CPI monthly rate, that excludes energy and food prices, also accelerated to 0.3% in March, from 0.1% in February.
So, inflation has finally reared its ugly head, which is even more clearly seen on an annual basis. The overall CPI soared 2.6% over the last 12 months ending in March, following a 1.7% increase in the preceding month. Meanwhile, the core CPI jumped 1.6%, following a 1.3% rise in February. Hence, as the chart below shows, inflation has not only increased significantly since the bottom in May 2020, but it has also substantially surpassed the Fed's target.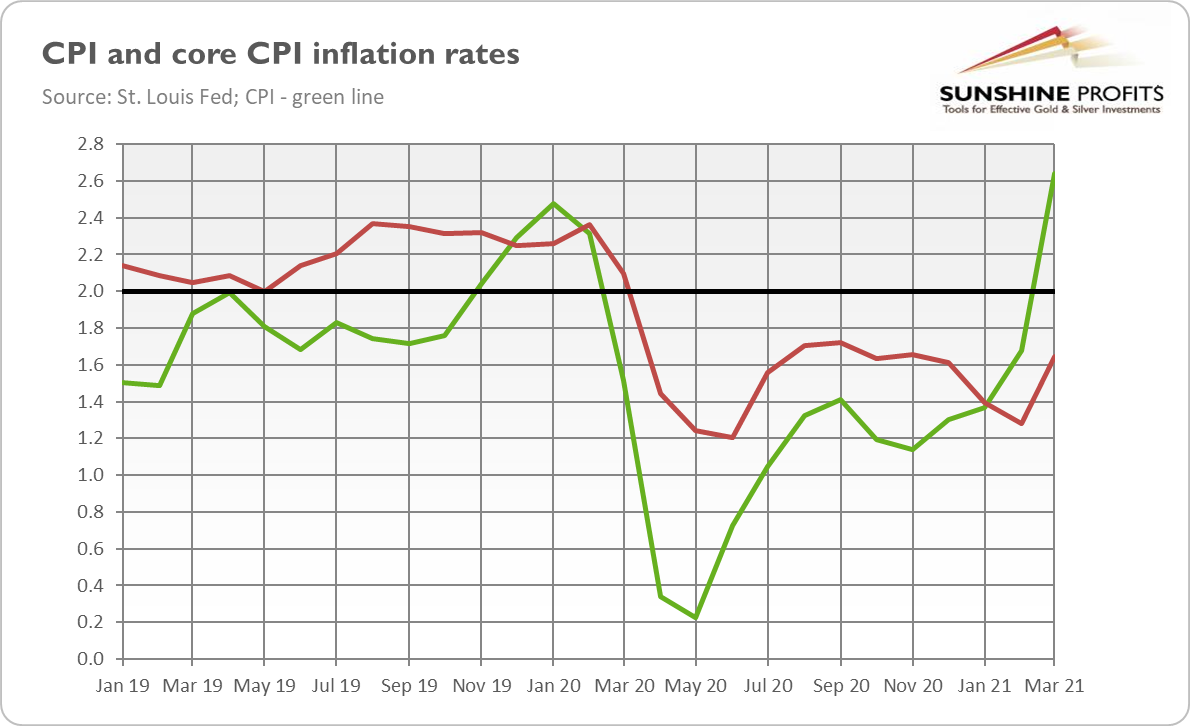 What's important is that the recent jump in inflation is not a one-off event. We can expect that high inflation will stay with us for some time, or it can accelerate further next month, given the fact that oil prices plunged deeply in April 2020 (some oil futures even fell into negative territory!). So, the next CPI reading will have to factor in a quadrupling of oil prices over the year.
Implications for Gold
What does it all mean for the price of gold? Well, higher inflation should support gold, which is perceived as an inflation hedge. Furthermore, higher inflation should decrease or at least soften the rise in the real interest rates, further supporting the price of the yellow metal.
As the chart below shows, gold's immediate response was positive, yet rather limited, with the price of the yellow metal increasing to almost $1,748 on Tuesday (Apr.13). After all, the increase in inflation was widely expected given the base effects and the latest Fed's economic projections. So, no big surprises here.
Disclaimer: Please note that the aim of the above analysis is to discuss the likely long-term impact of the featured phenomenon on the price of gold and this analysis does not indicate (nor does it ...
more