Inflation Knock-Knock-Knockin' On Golden Door
Inflation is not coming. It is already here! Gold should benefit, given that it could be higher and more lasting than the pundits believe.
"Knock, knock, knockin' on heaven's door", so sing Bob Dylan and Guns N' Roses. Now, inflation is knocking on the golden door. According to the BLS, the U.S. CPI inflation rate recorded a monthly jump of 0.6% in March, while soaring 2.6% on an annual basis. And the core inflation has also accelerated. So, inflation has significantly surpassed the Fed's target of 2%, as one can see in the chart below.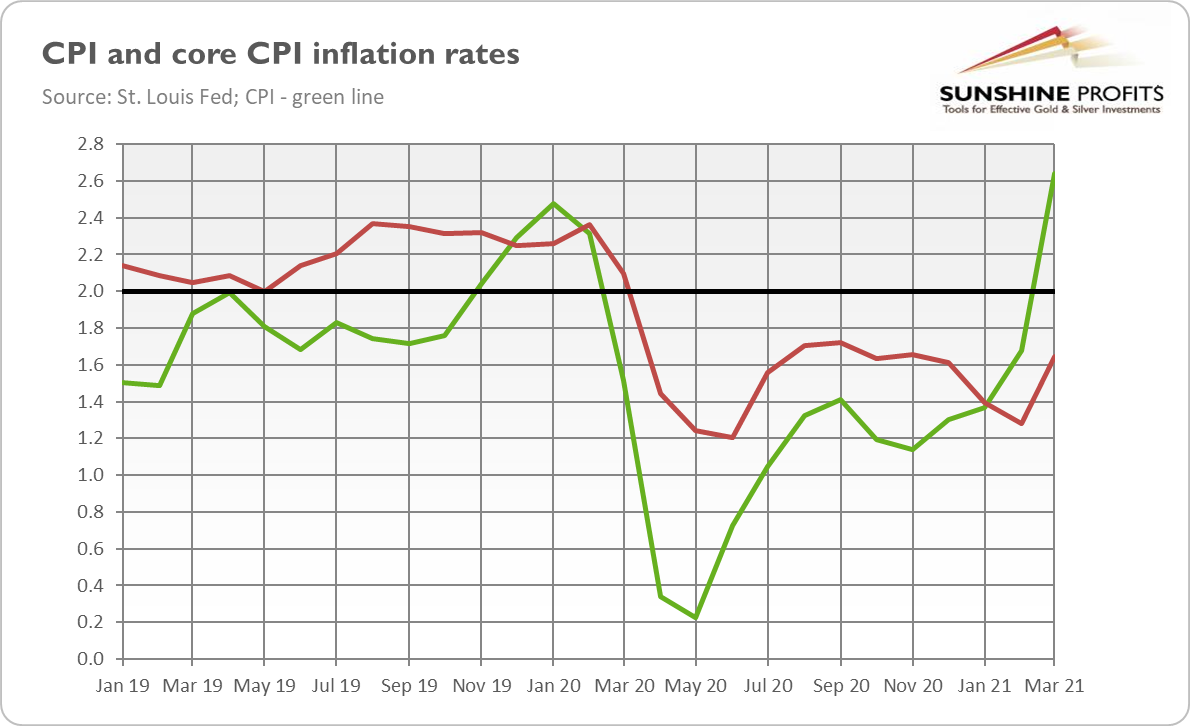 And remember that this is what the official data shows, which rather underestimates the true inflation. This is because of several issues, including hedonic quality adjustments, shifts in the composition of the consumer baskets, and methodological changes. It is enough to say that the rate of inflation calculated by the John Williams' Shadow Government Statistics that uses methodology from the 1980s is over 10% right now.
There are some controversies about this alternate data, but I would like to focus on something else. The CPI doesn't include houses (or other assets) into the consumer baskets, as they are treated as investments. The index only takes rents into account. But homeowners don't pay rents, so for them, the cost of shelter, which accounts for about one-fourth of the overall CPI, is the implicit rent that owner-occupants would have to pay if they were renting their homes. And this component rose just 2 percent in March, while the Case-Shiller Home Price Index, which measures the actual house prices, soared more than 11% in January (the latest available data). According to Wolf Street, if we had replaced the owners' equivalent rent of primary residence with the Case-Shiller Index, the CPI would have jumped 5.1 instead of 2.6%. The chart below shows the difference between these two measures.
Disclaimer: Please note that the aim of the above analysis is to discuss the likely long-term impact of the featured phenomenon on the price of gold and this analysis does not indicate (nor does ...
more