Huge Volume & Tiny Volume – Meaningful Paradox For Gold Investors
Let's check gold's very long-term picture for more details.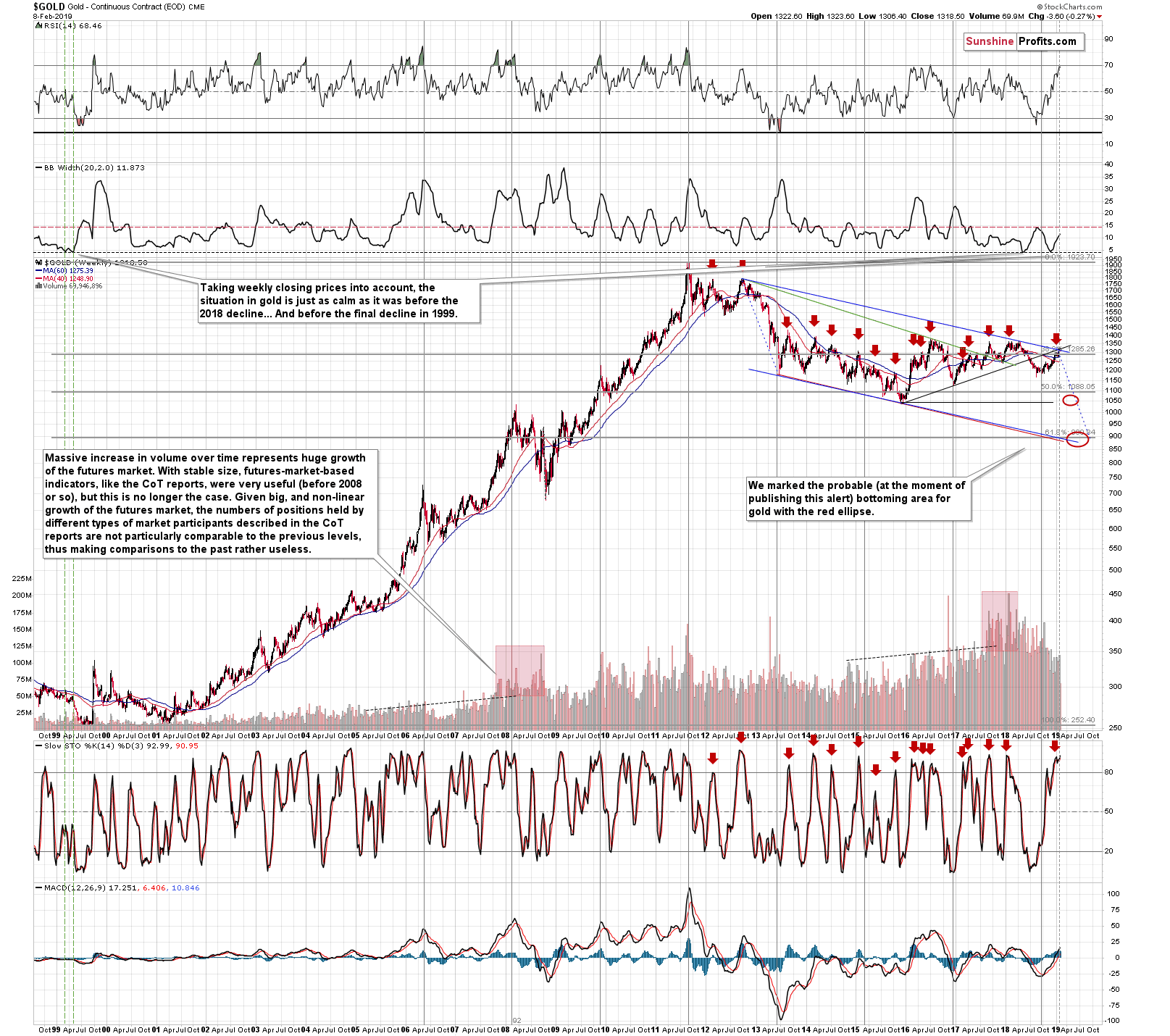 Just like it's visible on the first chart, we see that gold moved to the long-term vertex-based reversal, RSI touched the 70 level thus flashing a reliable sell signal, and the Stochastics is about to flash a sell signal as well. This is already a very powerful bearish combination, even without taking into account that only little more short-term weakness is needed for the latter.
It all happened after gold moved higher for a few months, which took place on a relatively low volume overall. This rally may have appeared significant, but from the long-term point of view, it looks much more like a medium-term correction, similar to the one that took place in late 2012.
Gold and Corporate Bonds Link
We usually write a lot about the gold and USD Index link as it deserves such a close attention. When situation calls for that, we also discuss the gold and shares (SPX) link. Nothing changed with regard to the above links, so we'll focus on other issues today. In particular, we will shine light on another major asset class and examine its relationship to gold. It will be bonds, and corporate bonds are a good proxy to do so. Let's dive in and do so in the context of the gold bear market, right after the 2011 topping action.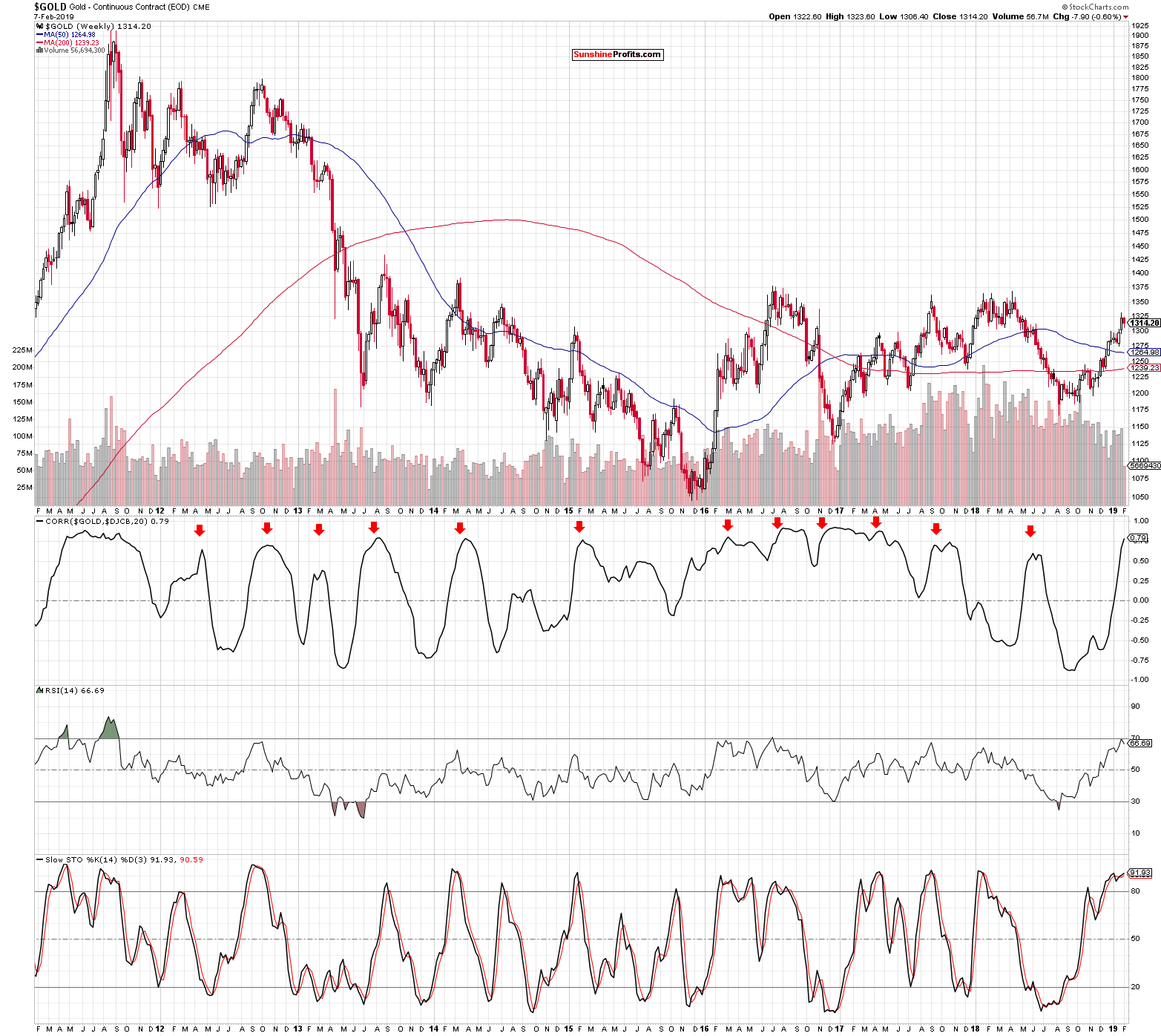 Correlation has been fluctuating between positive and negative values for the period in question. However, there is one thing immediately apparent. The local peaks in positive correlation where the coefficient has reached values generally over 0.50. Overwhelmingly, these marked reliable shorting opportunities as the price of gold declined right there or shortly thereafter. The dozen instances speak clearly. Only the first of them (Q2 2012) was followed by a prolonged sideways consolidation that eventually gave way to a temporary price upswing. This was the period of Quantitative Easing 3 introduction. Similarly, the low unmarked positive correlation peak in summer 2015 was followed by gold's price upswing and only then the price crashed below previous lows.
Most importantly, the higher-value peaks indicate interesting shorting opportunities and the current correlation value fits the description.
That's enough about gold for today - let's take a look at gold's sister metal – silver.
The Silver Fakeout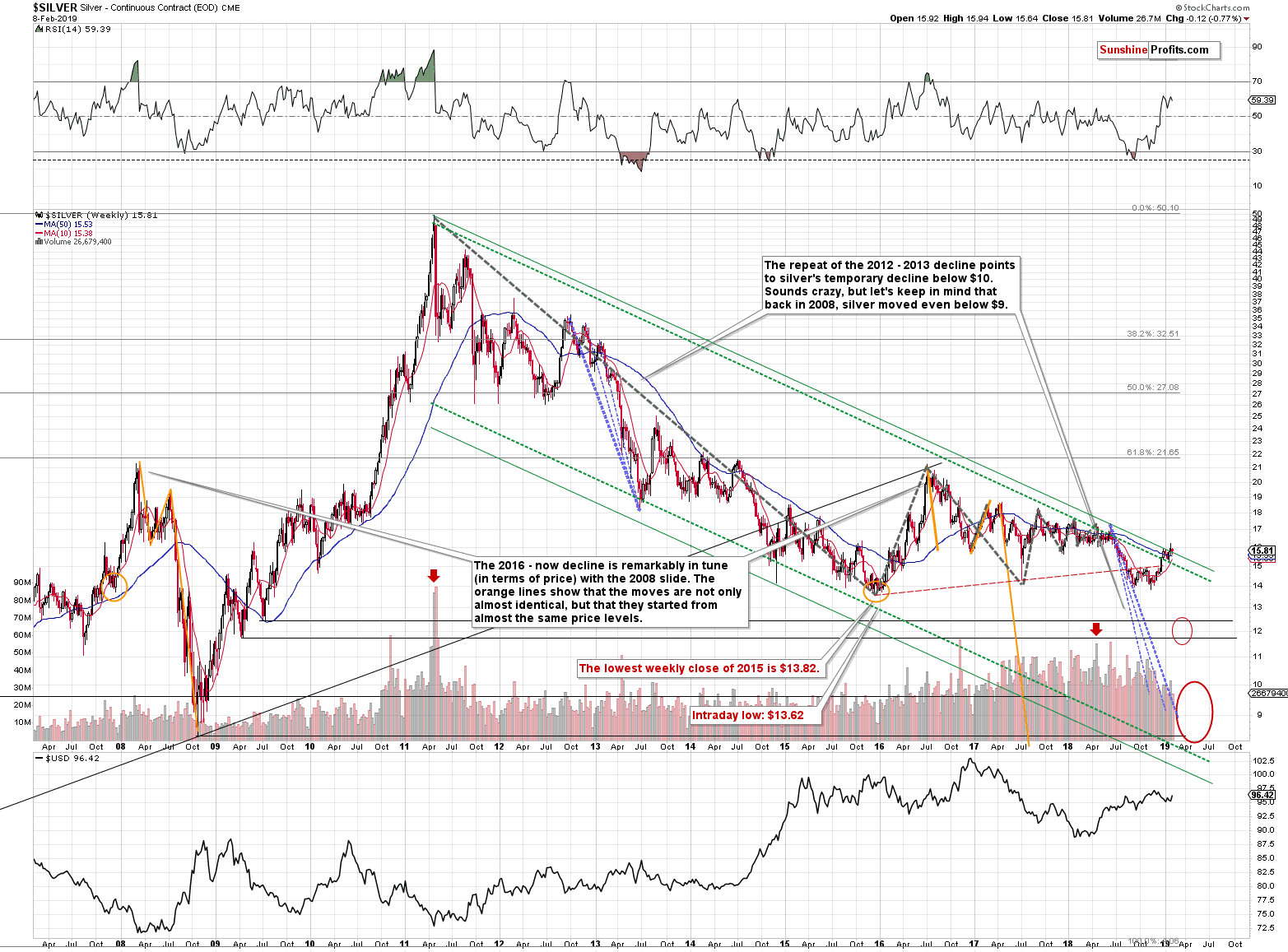 Silver invalidated its small breakout above the long-term resistance line, just like we expected it to. The invalidation took place in intraday terms, and not yet in terms of the weekly closing prices. On Tuesday, we wrote the following:
Silver might move higher, even above this important line. After all, silver is known for forming fakeouts instead of breakouts. But such a move would not likely be significant. Ultimately, this line is critical so any deviation from the regular course of action (strong resistances are not easily broken) should only be temporary and rather small.
Naturally, the above is up-to-date at the moment of publishing it and the situation may – and is likely to – change in the future. If you'd like to receive follow-ups to the ...
more