Hedge Funds Getting Bullish On Gold
The gold market has seen many momentum shifts in recent months. At the end of the day, however, the market really depends on one simple factor: Are the big money inflows trending in a bullish or bearish direction?
Near market lows, speculative interest tends to be heavily on the short (bearish) side. That sets the stage for buying pressure to be released when rallies force short sellers to cover their positions.
As traders shift to taking on more long (bullish) positions, momentum builds for higher prices.
Recent data suggests that hedge funds and large market participants are again ramping up their bullish gold positioning and that could take the yellow metal to previous all-time highs… or beyond.
Hedge funds have increased their bullish bets on gold and do not appear to be afraid of recent talk of Federal Reserve tightening sooner than expected.
The latest data from the Commodity Futures Trading Commission (CFTC) shows that hedge funds increased their speculative net long positions in gold by over 10,000 contracts.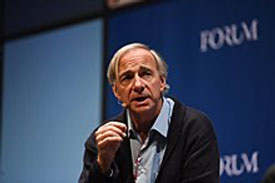 Ray Dalio has placed hugely bullish bets on gold.
Billionaire hedge fund manager Ray Dalio has taken out a sizeable stake in gold, declaring "cash is trash."
Dalio has also been dabbling in cryptocurrencies. But rival billionaire hedge fund manager Paul Singer calls them "ridiculous," preferring instead to own tangible alternatives to cash, including gold.
Guggenheim's CIO Scott Minerdi is eyeing an ultimate price target between $5,000 and $10,000 per ounce. "As money leaves crypto and people are still looking for inflation hedges, gold and silver are going to be much better placed to go," he said recently.
Of course, there are numerous reasons why hedge funds and other big players may want to get their hands on gold bullion. Rising inflation worries, easy monetary policies, and a weaker dollar to name a few.
With the stock market possibly at or near its high, the buying in gold has not been limited to U.S. market participants.
Disclaimer: Information contained herein has been obtained from sources believed to be reliable, but there is no guarantee as to completeness or accuracy. Because individual investment ...
more