Have The Ides Of March Come For Silver?
Gold's volatile little brother had an interesting run thus far, with internet forums buoying its price. But will fundamentals prevail? Where is silver headed?
"The Ides of March are come," said Caesar. "Aye Caesar; but not gone," replied the soothsayer. The Ides of March quotation is often bandied about in financial articles midway through the month. Caesar was assassinated on March 15th in 44BC (or BCE), at a meeting of the Roman Senate. Written about by Plutarch and further popularized by Shakespeare (who dramatized the event), the day has often been used as a harbinger of ill-fortune. So, if we're to look at silver, should we be concerned about anything at this time?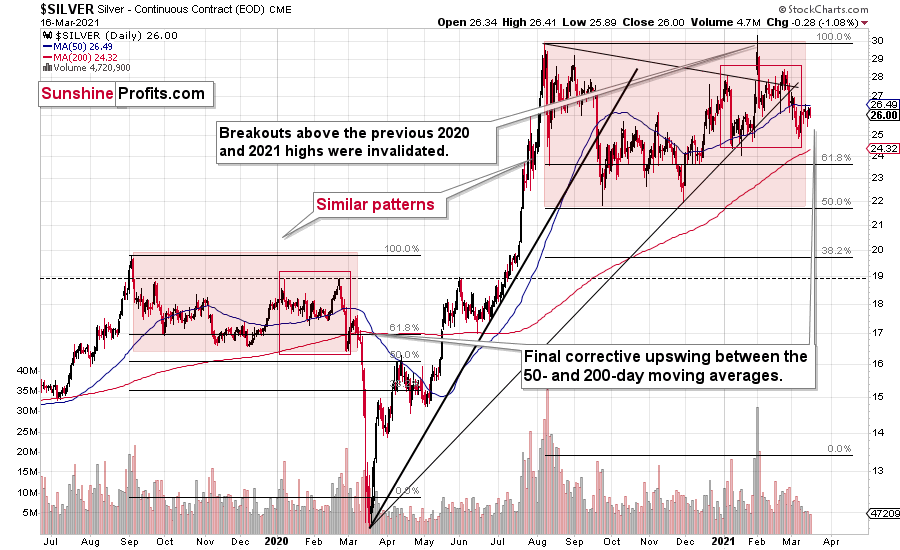 Silver is moving similarly to what we saw in the second half of 2019 and early 2020, before the huge slide. I marked the very broad tops that followed a quick rally in the red-shaded rectangles, and I also created solid-line red rectangles based on the last two – normal – tops and the initial decline that followed them.
Based on the sudden increase in silver's popularity, it spiked 1.5 months ago, but this move to new highs was quickly invalidated. The nature of this move was more or less random – it didn't stem from a change in fundamentals or from a specific technical pattern, but rather from a sudden growth of interest in silver based on forum posts. Because of that, and because this upswing was quickly invalidated, this quick upswing didn't really break the self-similarity pattern.
Right now, we see a corrective upswing between – approximately - the 50- and 200-day moving averages (marked with blue and red). This upswing corresponds to the corrective upswing in gold and mining stocks (which allowed us to profitably go long in case of the latter). We saw – approximately – the same thing about 12 months ago, right before the huge slide.
And speaking of time, please note that the final corrective upswing of early 2020 took place in very late February and early March, while the two – normal – tops that created the red-line rectangle formed more or less at the turn of the year and in late February. This year, it's all taking place at almost exactly the same time of the year.
Disclaimer: All essays, research, and information found on the Website represent the analyses and opinions of Mr. Radomski and Sunshine Profits' associates only. As such, it may prove wrong ...
more