Greg Weldon: Gold Is Rallying In All Other Fiat Currencies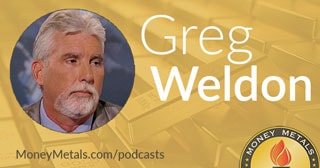 Mike Gleason: It is my privilege now to welcome in Greg Weldon, CEO and president of Weldon Financial. Greg has over three decades of market research and trading experience, specializing in the metals and commodity markets, and his close connection with the metals led him to author a book back in 2006, titled Gold Trading Boot Camp, where he accurately predicted the implosion of the U.S. credit market and urged people to buy gold when it was only $550 an ounce. He is a regular presenter at financial conferences throughout the country and is a highly sought-after guest on many popular financial shows, and it's always great to have him on the Money Metals Podcast.
...
Mike Gleason: Thanks for joining us again. Since it looks to us like what's happening in the equity markets has a strong bearing on what's happening in the metals market, let's start by getting your take on the direction of stocks. Equities had a miserable finish to last year, and conversely metals finished 2018 by moving higher. But since Treasury Secretary Steven Mnuchin put his call out to banks and the plunge protection team, we've seen stocks surging. 2019 is off to one of the best starts for the equity markets ever. Do you think the rally in stocks has legs here, or will we see some selling resume?
Greg Weldon: Well, I think that this is a sell the rally mode here. It will continue to be. To me, it's like well it's all good that the rally is taking place. You basically took out the long -term… I look at the 52-week and the two-year exponential moving averages on the weekly charts as a good gauge for the long-term trends. You have consistently taken out the two-year moving average and closed back above it in the same week. And this goes back over the last 10 years, if you look at this market since the low in 2009.
So it really recovered, but I hardly see this as the beginning of new bull leg to the upside. For one thing, you're barely 50% back to the highs. It's not like you're at a new high here. It's interesting to see on TV everyone talk about how this is the best beginning to a year ever. And it's because you just had the worst fourth quarter in 10 years, so you have to have perspective.
The question for me, where is the growth going to come from? Where is the next trillion dollars of wealth creation? What's going to generate that? Well, is it trade? If we get a trade deal with China, is that going to be the next big thing that's going to drive this market to new highs? Absolutely not. It may drive the market to new highs, but that's not going to be sustainable because at the end of the day, this is not stimulus. We have about a 375 drop ... most recent month to around 350-something. The bottom line is our annual trade deficit with China is less than 2% of GDP. This is not an engine of growth. This is merely a leveling of the playing field to become a more fair and open trade dynamic.
So, I don't see that as stimulus. The fact that the Fed has kind of backed off from their hawkish pursuit of higher rates here also not stimulus. And in fact, I could make a strong case to suggest that the Fed is still tightening without doing anything. Why do I say that? Because inflation has dropped. So, real interest rates have risen.
Since really August, since before the September hike you've gone from a real Fed funds effective rate of minus 100 basis to where it is now more than plus 50. The Fed said they wanted to be neutral. They're past neutral now. I know, it kind of sounds crazy to say a real Fed funds rate of a half of 1% is tight, but it is. When you're draining money from the bond market and when you have this dynamic around inflation and the Fed's got into a rate that is well above the effective Fed funds rate. If you look at the futures market for the Federal funds rate, for 2010 it's actually pricing in a rate cut now.
And that would be theoretically according to the future strip, the next Fed move. There's a lot of inconsistencies here, but at the end of the day until the Fed actually starts talking about cutting interest rates and being stimulative, they are not. So trade deal not an engine of growth. The Fed not hiking rates more is not stimulus. So, I don't see where the impetus is going to come from to drive this market to a serious new high.
Mike Gleason: In recent months we've been asking you about trade and tariffs so we'll continue there for a moment. The last time we spoke you pointed out that while there are certainly some effects to the U.S. economy the tariffs are helping some firms and hurting others. On net there may not be as large an impact as many people think. It's a different story in China, however. You were seeing signs of inflation and a dramatic slowdown in growth there.
Greg Weldon's website is www.weldononline.com.