Gold: The Pandemic Just Uncovered A Broken System
Monday 30, 2020 7 am PST. Gold is trading last at $1778.30, down 9.80. The Variable Changing Price Momentum Indicator (VC PMI) daily Buy 1 level is $1772 and the market has activated that buy signal. The target is $1795. The Buy 1 level has a 90% probability that the price will revert from that level back to $1795. You can use the levels below as your protective levels. We do not use straight stops.
Volatility
(Click on image to enlarge)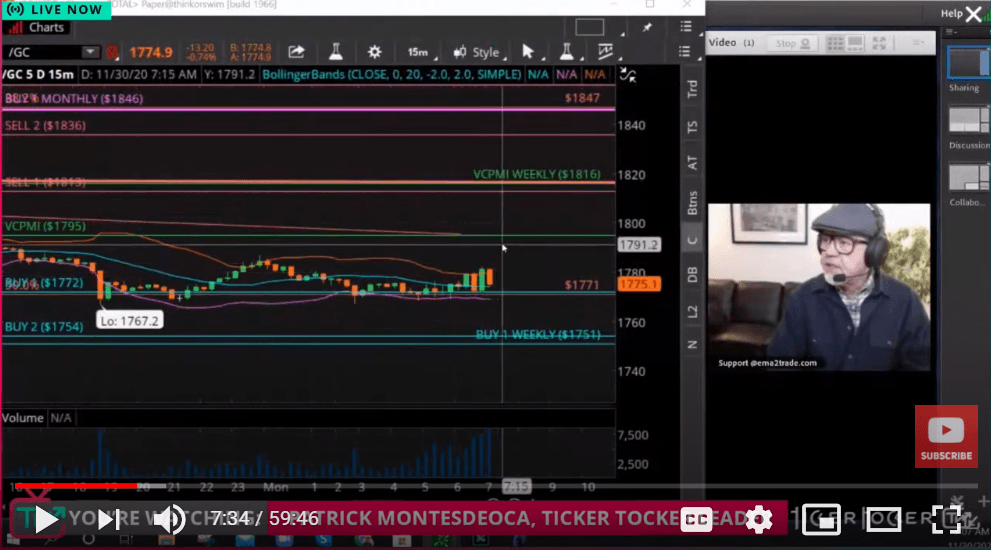 Courtesy: Ticker Tocker
The market is tremendously volatile. Gold has moved about $300 from the highs not too long ago. Gold rallied from $1451 in March to about $2089. It appeared to be the first wave of a five-wave pattern. In September 2018, we were at $1269. From that point, over two years, we made about an $800 rally. That kind of rally also occurred in 1981. Gold also reached that $800 or $900 level from just a couple of hundred dollars. In 1971, President Nixon took the dollar off the gold standard and the fiat currency that is the US dollar has lost value against gold since then significantly. That also marked the time when the US started to print more and more dollars, thereby reducing its value. Debt also has increased tremendously. We entered a debt economy based on the printing of money.
Highly volatility is great for traders. Without volatility, you can't make money. Gold is one such market with such volatility. Futures contracts are risky, in that you can get a margin call. But you also can use a small amount of money to leverage a great deal of gold. Originally futures contracts were designed for farmers to sell their crop forward. Then speculators got involved to determine the most accurate price for each commodity. It was not until about 1976 that futures contracts were used in a broad range of commodity markets beyond the grains. Futures spread to crude oil and the COMEX became active, allowing the trading of sugar, coffee, and other commodities.
Futures
Futures contracts give you a greater ability to anticipate the future price of a product. Having such information is an advantage in knowing where you want to trade, whether it's to trade futures or to use futures as a directional instrument to tell you the direction of the market and then to use that information to trade stocks or derivatives.
Disclosure: I am/we are long GDX. I wrote this article myself, and it expresses my own opinions. I am not receiving compensation for it (other than from SA). I have no business relationship ...
more