Gold: The Highway To Inflation Is Open
Fundamentals
We are looking at a pretty dark winter in terms of any kind of economic activity. Curfews are starting in California. New York schools are closed. It feels again like the first time in March when we were first hit by the pandemic. The markets reacted tremendously, dropping more than 1,000 points. The fundamentals appear to mirror the sentiment that we had in March, with the difference that this is the second wave. As we move into the winter, this can only get more complicated.
How do you take advantage of the situation? One of the reasons we focus on gold is that gold is going to be a major beneficiary of the situation. Gold collapsed in March related to the tremendous sell-off in equities, which also affected precious metals. It was liquidated to raise cash to retain positions. Usually, when there is a large sell-off in equities, investors often liquidate precious metals to meet margin requirements for stocks.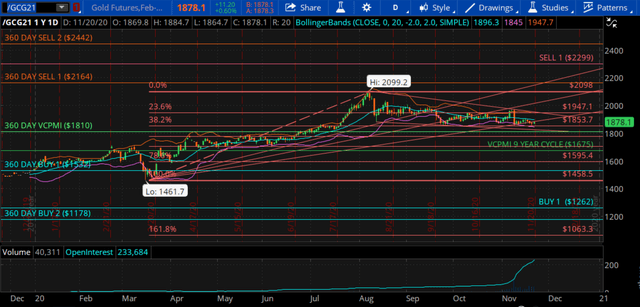 In March, we saw the first impact of the pandemic economically. Gold fell and then rose more than $600 an ounce. At the top, the market got too rich, too fast. It was a historic rally to new highs. The paradigm then changed with gold becoming a currency. In 1971, the paradigm shifted when the dollar was taken off the gold standard. In 2020, it shifted again. The US dollar is a paper fiat currency with no real backing to protect its intrinsic and purchasing power. Gold has value and is now a currency of sorts. Governments are printing endless amounts of debt in terms of US dollars, thereby reducing the value of each dollar. The US dollar has fallen about 98% compared to gold since 1971 and is continuing to fall.
This is a generational crisis, but it is also a generational opportunity. The economic system is going to have to change. In January, we have the Davos economic summit with all of the elite. They were responsible for the 1971 decision to eliminate the gold standard. The dollar then became the petro-dollar, more tied to the price of oil than to gold. Right now, we are facing mountains of debt. We have doubled our debt since 2008. Banks have $2 quadrillion in risk in derivatives. They have not and did not reduce their risk of leveraging, but have continued to increase their leveraging since the 1970s.
Disclosure: I am/we are long NUGT. I wrote this article myself, and it expresses my own opinions. I am not receiving compensation for it (other than from SA). I have no business ...
more