E

Gold Technical Perspective - Why So Bullish?
Is there enough upside potential to offset the downside risk by an acceptable margin?
While there is nothing overtly negative in the chart pattern, there is also nothing obviously positive, either; at least to a degree that would warrant excessive bullish optimism.
So, lets look at the next chart, a five-year weekly history of prices for GLD...
On this chart, we see that there is a descending line of overhead resistance dating back to at least February 2014. And the rising uptrend line of support dates back to December 2015.
The longer time periods in both cases are indications of strength. This means that the overhead line of resistance we talked about before will probably not be broken too easily. And maybe not right away. It has turned back at least three previous attempts in the past three years.
But it also means that the uptrend in place for the past five years cannot be taken lightly, and could provide strong support on any pullback.
So where does that leave us? Is there sufficient technical justification to support wildly bullish claims for new highs in gold prices this year? Next year?
Our final chart just below is a ten-year history of monthly prices for GLD...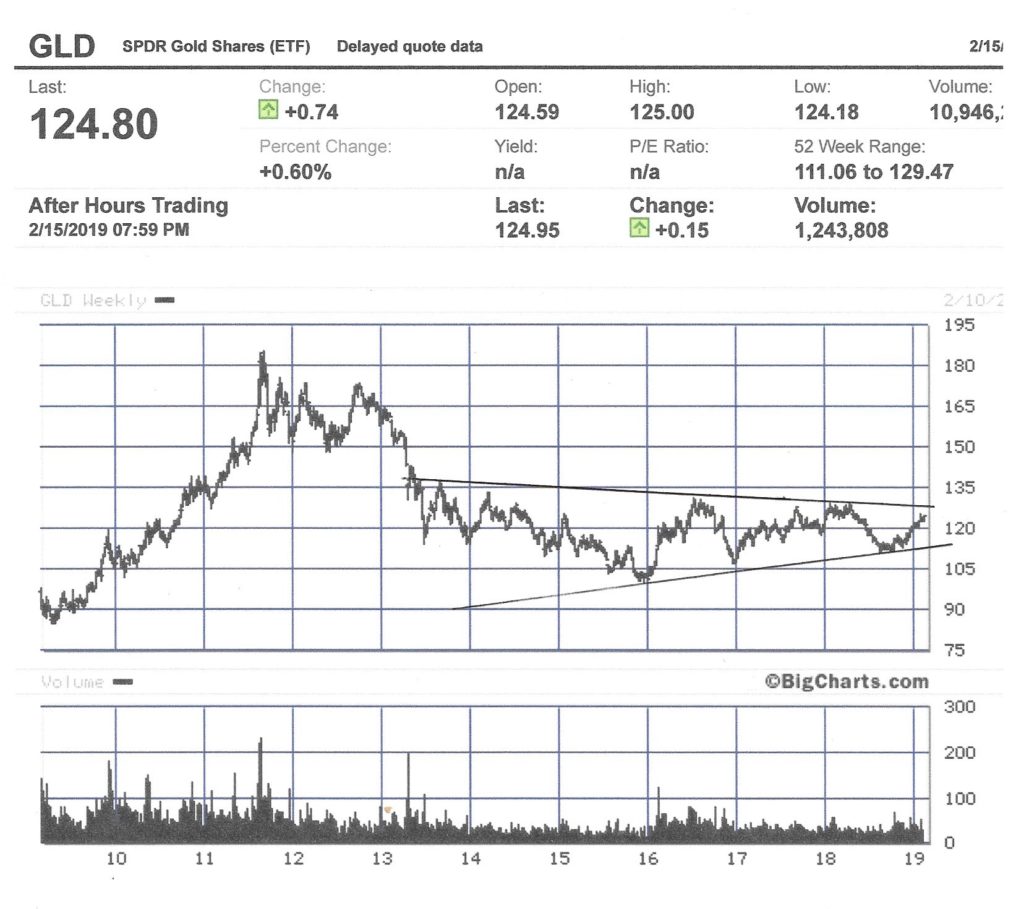 From this chart, we get an entirely different perspective about gold prices. The rising line of support which has been in place for three years is seen within the context of declining line of overhead resistance which goes back almost six years.
In addition, it is apparent that the two lines will soon intersect; and that the price of GLD will eventually cross at least one of those lines. But which one?
If it is the line of overhead resistance, then that would seem to indicate that recent strength in the price of GLD is the foundation for considerably higher prices.
But the risk on the downside is still significant. Possibly much more than most recognize.
It took twenty-eight years for gold to finally surpass its 1980 price peak of $850.00 per ounce. We are now in the eighth year of declining prices for gold. Can you wait twenty more years to see $1900.00 gold again?