Gold Surpasses $1,900. What's Next?
Gold surpassed $1,900 most recently – and it's likely that the rally will continue for a while.
Gold bulls have an opportunity to celebrate. As the chart below shows, the price of gold has been rising recently. And yesterday (May 26) it finally jumped above $1,900, which is an important psychological level.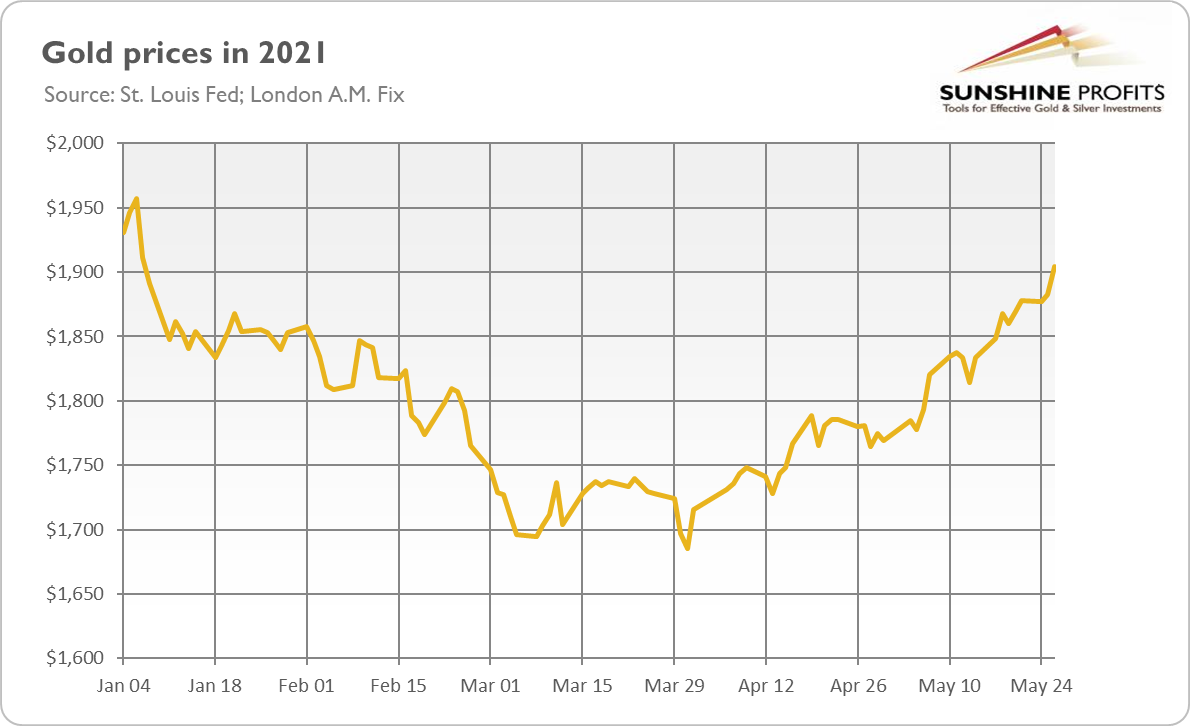 The question we should ask now is "what's next?" Well, as the jokes go on, the price of gold will either go up or down. But in earnest, there are significant downside risks for the yellow metal. First of all, the Fed could overreact to rising inflation and increase real interest rates.
However, these worries seem to be overblown. The Fed's monetary policy is always asymmetrical, i.e., it eases its stance in response to recession more than it tightens it in response to inflation. The federal funds rate gets lower and stays at these low levels for longer, partially because of all the enormous indebtedness of the contemporary economy.
The tapering is surely the risk that looms on the horizon. But the Fed will maintain its quantitative easing and zero-interest-rate policy for at least the rest of 2021. So, there is still room for gold to move further north, especially after the recent turmoil in the cryptocurrency market resulting in renewed confidence in gold as an attractive inflation hedge.
After all, the US monetary policy is loose, and real interest rates are still in negative territory. The fiscal policy remains very easy, and the public debt is high. Inflation is huge and rising. And there is also an issue of depreciation of the greenback. The Fed's easy stance, low interest rates, and high inflation weaken the US dollar, supporting gold prices.
Last but not least, the level of risk appetite/confidence in the Fed and the economy has already reached its peak, as the GDP has recovered with an unprecedentedly high pace of growth. In other words, the post-pandemic euphoria is behind us – now the harsh, inflationary reality sets in. Maybe we won't repeat the 1970s stagflation, but inflation is probably more deeply embedded than the Fed thinks. And it seems that the markets are finally getting this idea, pushing some investors into gold's warm and shiny embrace.
Disclaimer: Please note that the aim of the above analysis is to discuss the likely long-term impact of the featured phenomenon on the price of gold and this analysis does not indicate (nor does ...
more