Gold, Stocks & The Pandemic: A Powerful Contracyclical Play In Action
While the use of gold to protect against inflation is well known, it has other investment attributes that are potentially even more valuable, and this is particularly true in times of crisis.
In this analysis, we will examine the relative performance of gold and stocks (as represented by the S&P 500) between early February and late May, as the coronavirus pandemic and the resulting economic shutdowns transformed global economies and markets.
The short term relationship that we will find is an almost perfect match with what fifty years of financial history shows us is perhaps gold's most valuable investment attribute over the long term, which is its contra cyclical relationship with stock prices.
This analysis is part of a series of related analyses, which support a book that is in the process of being written. Some key chapters from the book and an overview of the series are linked here.
Creating The Gap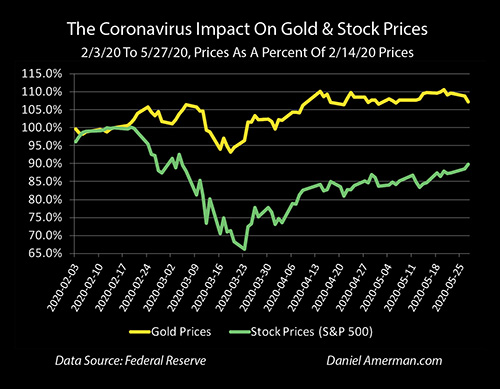 The above graph shows price movements for gold and stocks (as represented by the S&P 500) since February 3rd of 2020. The prices are in percentage terms, with 100% equaling the market closes on February 14th, which were $1,581 an ounce for gold (London exchange) and 3,380 for the S&P 500 index.
Both gold and stock prices were relatively stable at around 100% until February 24th, when escalating fears of the coronavirus pandemic led to a sharp downturn in stock prices. At that exact same time - gold prices began rising.
The S&P plunged to 2,237 by March 23, 2020, a decline of 34%. Gold prices reached $1,748 an ounce by May 20th, an increase of almost 11%.
The relationship is not perfect on a day to day to basis. But nonetheless, a widening gap appeared - and persisted - between gold and stocks. This gap between the green and gold lines is a very short term example of a very powerful long term relationship between gold and stocks, which is not about inflation and is arguably the single most valuable advantage to owning gold as an investment.
At the end of February, I was also just releasing some new research that was based on detailed study of the relationship between gold and stocks over the fifty years between 1969 and 2019. One of the most important things that I found - was a long term graph that looks a great deal like the recent short term graph of gold and stock prices.
As a starting point, the monthly relationship between gold prices and stock prices is not that strong, and even when we look at it on an annual basis with historical prices - the relationship is not compelling.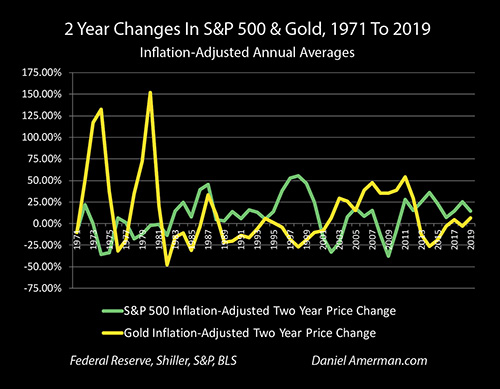 However, when we take six analytical steps, as explored one by one in Chapter Nineteen (link here), then a very strong contracyclical relationship between stocks and gold can be found, as shown in the graph above. Two of the most important steps are to strip out inflation from both gold and stock prices, and to move to a longer term, 2 year comparison period (the first comparison period in the graph above is the 2 years of 1969 to 1971).
When we take those steps, then a series of gaps appear - and they usually move the opposite directions. When the green line of inflation-adjusted stock prices is moving up - the gold line of inflation-adjusted gold prices is usually moving downwards, and a gap opens up. When the gold price line is spiking up - the green line of inflation-adjusted stock prices is moving downwards and a gap opens up. So what we are seeing with recent price movements and the gap opening up as stocks remain down while gold remains up, is a very short term example of strong, fifty year relationship.
Contracyclical Rewards & Penalties
When we look at contracyclical assets such as stocks and gold, then which asset class one is invested in, for any phase of the cycle, is of critical importance.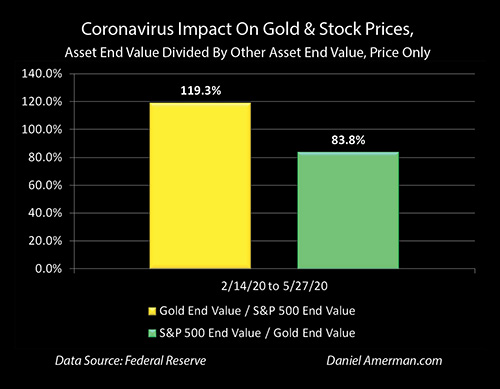 As of May 27th, someone who invested in gold would have had 107.2% of the value of their starting investment on February 14th. Someone who was invested in the S&P 500 would have had 89.8% of their starting investment (price only) - even after the strong stock comeback that was fueled by a fantastic degree of monetary creation by the Federal Reserve.
So, someone who was in the contra cyclical asset of gold would have been 119.3% better off than if they were in stocks, the value of their investments would have been almost 20% higher (107.2% / 89.8% = 119%).
Learn more about the free book.
Disclosure: This analysis contains the ideas and opinions of the author. It is a conceptual and ...
more