Gold, Silver Price Outlook: Rising Yields And USD Exert Downward Pressure
Gold and silver prices fell by the most since late September, plunging as much as 5% and 10% respectively over two days. A rebound in the US Dollar and climbing longer-dated US Treasury yields appear to be the primary weighing factors behind the move. Other commodities including iron ore, copper and nickel suffered a pullback too, but not comparable to the extent that gold and silver suffered. This could be attributed to a lack of industrial applications for precious metals compared to base metals, which were riding the tailwind of reflation hopes and a cyclical rebound in industrial demand. This renders precious metal prices more sensitive to yields and the US Dollar.
Rising Treasury yields – perceived risk-free rates of return – increase the opportunity cost for holding non-yielding assets such as gold and silver. Therefore, gold and the 10-year Treasury yield demonstrate a negative relationship, with their 12-month correlation coefficient found at -0.52 (chart below).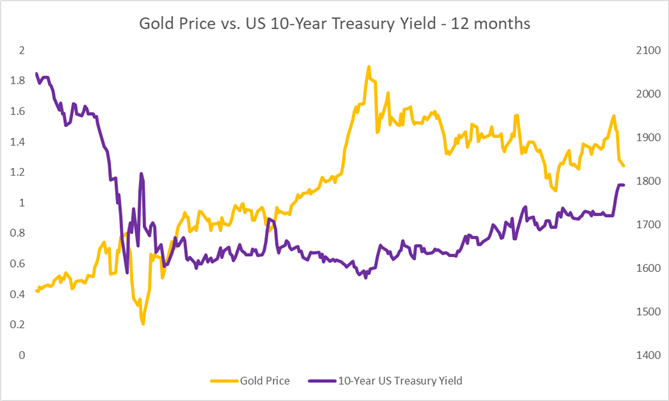 Source: Bloomberg, DailyFX
The US Dollar Index rebounded from a two-and-half year low to 90.40, rising 1.15% over three days. This may partially compensate gold bulls if they used foreign currency to invest in the yellow metal. Last Friday's US nonfarm payroll report came in with a big miss, and average hourly wages surged 5.1% from a year ago due to large job losses in the leisure and hospitality sector. Worsening labor market conditions in the wake of rapidly rising Covid-19 infections may raise the prospect for further stimulus and monetary easing, which may lead the USD lower in the medium term.
President-elect Joe Biden will unveil a new Covid relief plan this Thursday and may increase the amount of stimulus checks to US$ 2,000 from US$ 600 already approved by Congress and signed by outgoing President Donald Trump. Fresh stimulus hopes may help to cushion the downside for gold and silver prices. The metals have long been perceived as inflation hedge and stores of value amid unprecedented quantitative easing around the globe.
Disclosure: See the full disclosure for DailyFX here.