Gold Seems Stuck At $1900. Are Inflationary Fears Exaggerated?
Gold is fluctuating around $1,900 amid a sideways trend in real interest rates and a decline in inflationary expectations.
Gold surpassed $1,900 at the end of May. However, it has been struggling since then to rally decisively above this level. Instead, the price of the yellow metal has been oscillating around this level, as the chart below shows.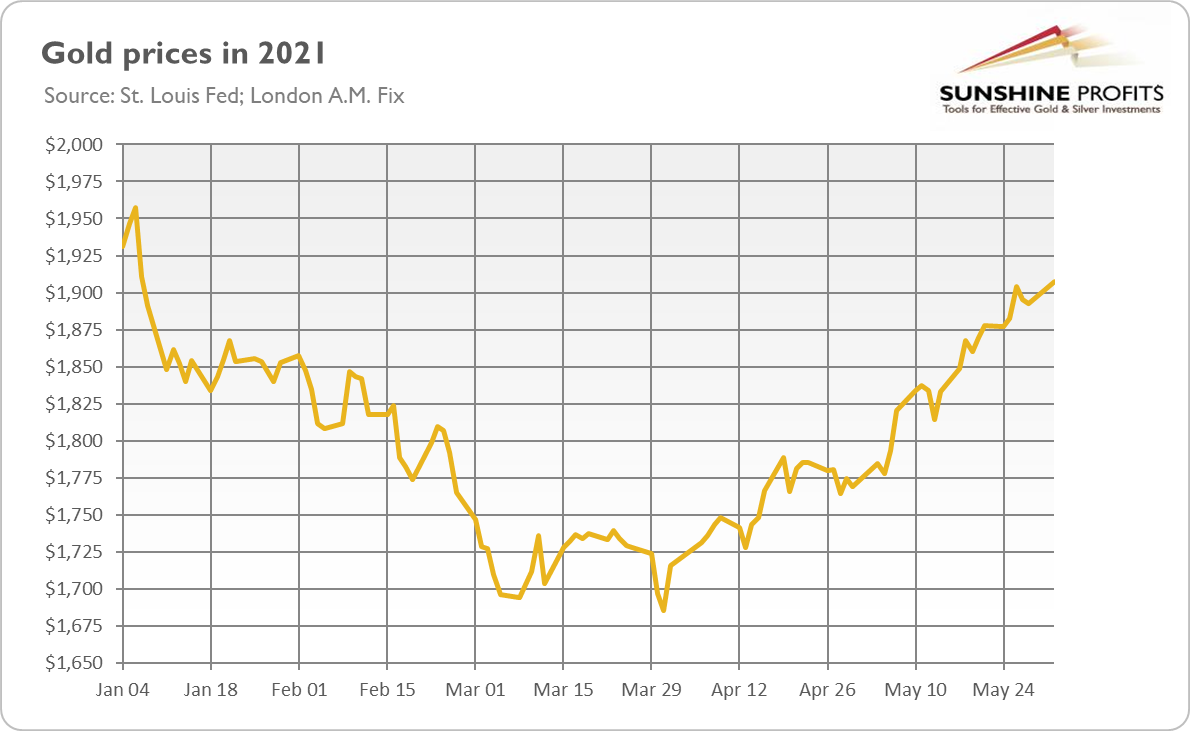 Why is that and what does it mean for the gold market? Well, on the one hand, we could say that the yellow metal is in a normal pause during an uptrend. However, the lack of more aggressive price appreciation amid high inflation, ultra-loose monetary policy, depreciating dollar, and super easy fiscal policy could be seen as disturbing.
From a fundamental perspective, the timid price behavior of gold could be explained by a sideways trend in real interest rates. Their lackluster movement, in turn, could have resulted from the downward correction in long-term inflationary expectations (blue line), as the chart below shows.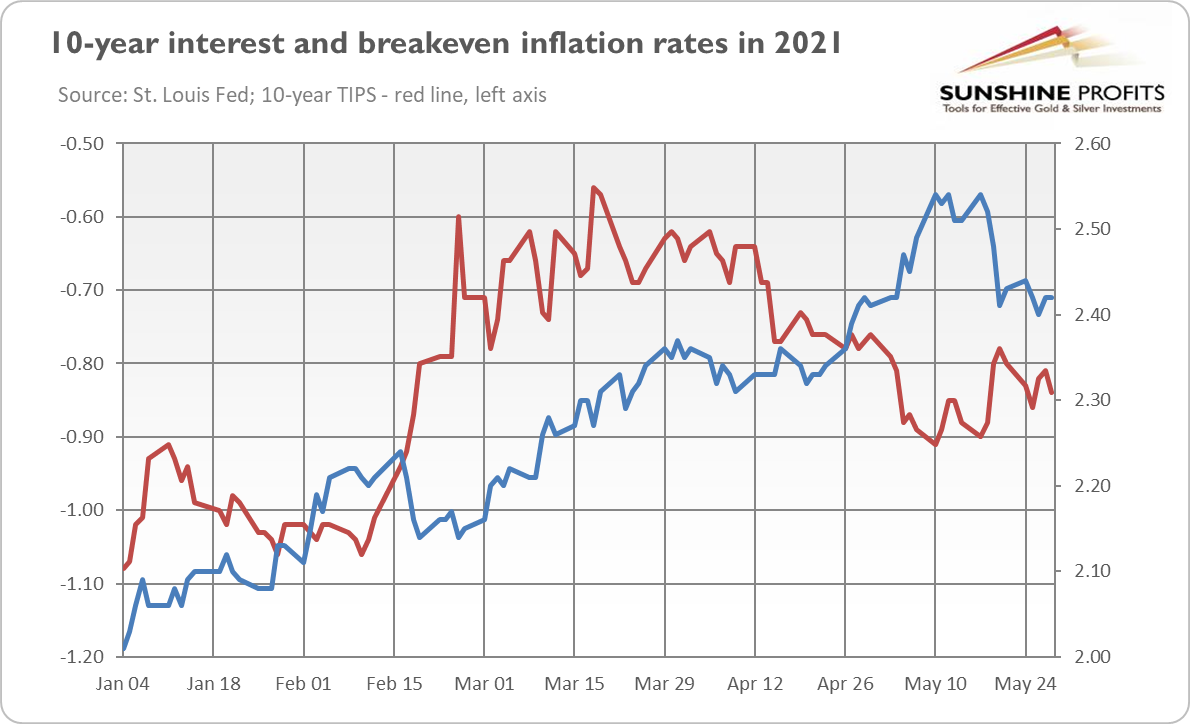 Investors' inflation bets have lost some steam, starting a debate about whether expectations of inflation have already peaked. After all, it might be the case that inflation fears have been exaggerated and investors have overshot, as they often do. In addition, some of the FOMC members signaled that it could be a good idea to begin discussing tapering quantitative easing.
If this was really the peak of inflationary expectations, the news would be bad for gold, which is seen as a hedge against inflation. However, many analysts expect that inflation expectations have room for further rises and could reach levels close to 3%.
Implications for Gold
What does all this mean for the price of gold? Well, market-based inflationary expectations have recently declined, dragging the real interest down and restraining gold from moving upward. However, inflation worries won't disappear anytime soon. After all, the PCE inflation, the favorite Fed's inflation gauge, jumped 3.1% in April, beating the expectations. Even in the Eurozone, where price pressure is usually lower than in the US, the inflation rate rose from 1.6% to 2% in May, which is the highest level since October 2018.
Disclaimer: Please note that the aim of the above analysis is to discuss the likely long-term impact of the featured phenomenon on the price of gold and this analysis does not indicate (nor does ...
more