Gold Prices Rise To 4-Month High, Crude Oil Surges Before OPEC+ Meeting
Gold prices traded higher toward a fresh four-month high during Tuesday's APAC session. Bullion has surged over 13% since early April, underpinned by a weakening US Dollar and growing inflationary pressure. Rising price levels around the globe boosted the appeal of the yellow metal, which is widely perceived as a store of value and hedge against inflation. The DXY US Dollar Index is hovering near a five-month low of 89.78, offering an additional pillar of support to the precious metal.
Image Source: Pixabay
The strengthening price growth outlook appears to have little impact on real yields however, with the 10-year Treasury inflation-index security staying largely unchanged at -0.85% overnight. The rate has been falling since early April as fears about a "taper tantrum" faded after Fed officials reiterated their dovish stance.
Real yield has historically exhibited a negative relationship with gold prices, because it serves as a good proxy of the opportunity cost to hold the non-interest-bearing precious metal. Their recent trends can be visualized on the chart below.
Friday's US nonfarm payrolls report will be closely watched by traders for clues about the health of the labor market and its ramifications for the Fed's policy guidance. If the number fails to meet an estimation of 650k, this could lead to a deeper pullback in the US Dollar and buoy bullion prices. The opposite may happen if the actual number analysts' projections.
Gold Prices vs. 10-year Treasury Inflation-indexed Security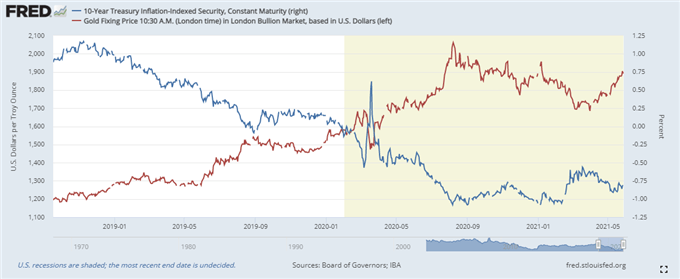 Source: FRED
Crude oil prices extended higher above a key resistance level of $ 67.00 after the OPEC+ painted a positive outlook for global energy demand. The oil cartel estimated that stockpiles will drop rapidly in the second half of the year, with rising demand more than offsetting a potential increase in Iranian oil supply if a nuclear deal with the US materialize.
Disclosure: See the full disclosure for DailyFX here.