Gold Prices Maintain Uptrend, Eye Continuation Effort Around Jackson Hole
Gold prices have been trading sideways the past few days, in line with our gold price weekly trading forecast. But now that the Federal Reserve's Economic Policy Symposium in Jackson Hole, Wyoming is here, all that could change. Speeches by various central bank officials, but most prominently Fed Chair Jerome Powell, will likely spur acute price action across asset classes over the coming days – and there is a high probability that markets gap open after the weekend.
Whereas volatility has been trending lower in the run-up to the Fed's Jackson Hole summit, it seems possible that volatility makes a return as traders reallocate capital ahead of what should be an exciting September for central banks: both the Fed and the European Central Bank are expected to cut rates, while the Reserve Bank of Australia may not be far behind.
VOLATILITY REMAINS A KEY FACTOR FOR GOLD PRICE ACTION
While other asset classes don't like increased volatility (signaling greater uncertainty around cash flows, dividends, coupon payments, etc.), precious metals tend to benefit during periods of higher volatility as heightened uncertainty increases the safe haven appeal of gold and silver.
GVZ (Gold Volatility) Technical Analysis: Daily Price Chart (November 2016 to August 2019) (Chart 1)
(Click on image to enlarge)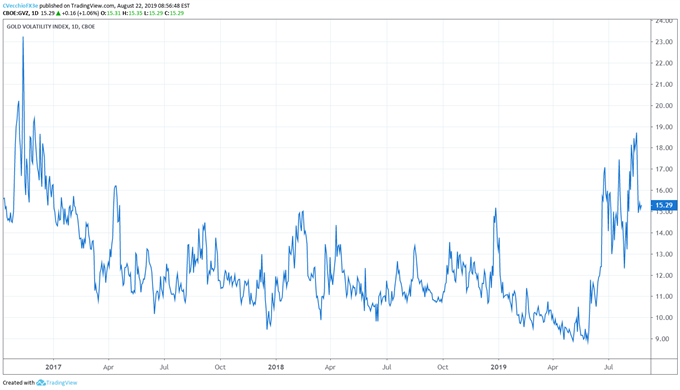 Gold volatility (as measured by the Cboe's gold volatility ETF, GVZ, which tracks the 1-month implied volatility of gold as derived from the GLD option chain) has slipped back in recent days after setting another fresh yearly high close on August 15 at 18.72; GVZ is back at 15.29.
The 5-day correlation between GVZ and gold prices is 0.86; and the 20-day correlation is 0.78 (one month ago, on July 22, the 5-day correlation was 0.93 and the 20-day correlation was 0.76). To this end, if gold volatility continues to drop, then it will be a difficult environment for gold prices to continue their recently rally.