Gold Price Outlook: XAU/USD May Rise On FOMC Minutes, Trade War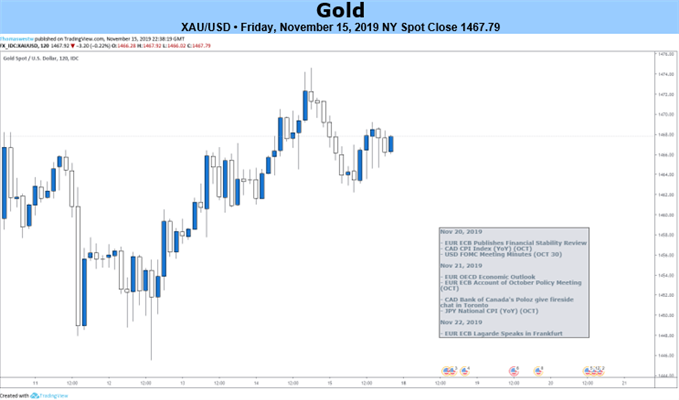 GOLD PRICES OUTLOOK: BULLISH
Gold prices could get a boost if the release of the FOMC minutes fuel Fed rate cut bets
XAU/USD rise may be amplified if trade war tensions bolster case for additional easing
OECD global outlook could spook investors, magnify urgency for accommodative policy
Gold prices may gain if demand for anti-fiat hedges rises amid deteriorating fundamental factors, causing Fed easing expectations to swell. The yellow metal has found itself being torn. US-China trade war risks are nudging prices upward even as positive economic data applies downside pressure by discouraging additional liquidity provisions from the central bank. That softens demand for anti-fiat hedges.
GOLD PRICES, DECEMBER 2019 FED FUNDS FUTURES CONTRACT, US 10-YEAR GOVERNMENT BOND YIELD
Gold prices charted created using TradingView
GOLD PRICES MAY RALLY ON ESCALATING US-CHINA TRADE WAR RISKS
Last week, mixed CPI reports left gold prices mostly unfazed. Volatility sprang up after Fed Chairman Jerome Powell cooled easing expectations and sent the metal tumbling. However, following news of escalating US-China trade war risks, XAU/USD reclaimed its losses. The source of risk aversion came shortly after China said it is reluctant to commit to agricultural purchases unless the US makes guarantees of its own.
However, it is important to note that gold is not a haven asset. Rather, its attraction as a non-interest-bearing instrument is amplified in an environment where traders are expecting interest rates to fall. Therefore, when news crosses the wires that leads traders to speculate that the Fed will cut interest rates, gold prices typically rise because the cost of holding it is comparatively reduced. Digression aside, back to the trade war.
This includes Washington committing to repealing tariffs in lockstep with phases in their multi-sequential trade agreement. However, US President Donald Trump has previously stated that repealing tariffs in phases was not something the US had pledged to do. Reports also continue to cross the wires that both sides are still struggling to resolve core issues such as those pertaining to intellectual property rights.