Gold Price Outlook: Gold Bulls Push, Show No Signs Yet Of Abating
GOLD PRICES BACK ABOVE 1500
Gold prices have remained bid over the past week, setting another fresh six-year-high in early-Tuesday trade. Last week, I pointed out that Gold prices were at their most overbought since 2011 with the big question being whether that mattered. At this point, it hasn't, and Gold remains as one of the strongest trends on traders' charts as the Goldrush has continued.
At the source of the move is a rather potent cocktail of drivers. Global stress is contributing, surely, but it's the responses and expected reactions to those stressors that's likely the more important factor. Trade wars, political strife and slowing economic growth are all working in concert to drive global Central Banks into a more dovish posture, similar to what was seen after the global financial collapse. This has brought on lower bond yields and, in the US, a case of yield curve inversion that doesn't usually portend a positive story. Gold prices have remained attractive through it all.
GOLD DAILY PRICE CHART
(Click on image to enlarge)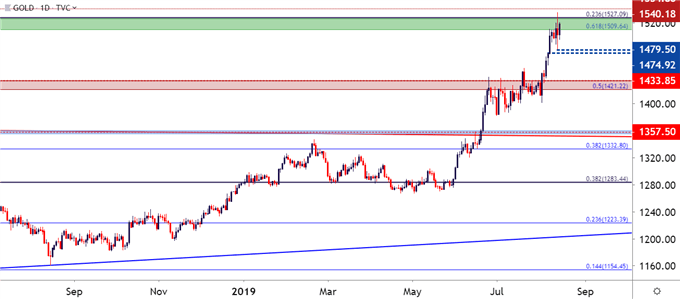 Chart prepared by James Stanley; Gold on Tradingview
While the trend has been quite clear and the driving force of that move very logical; the primary complication with working with Gold prices at the moment is one of strategy. Each pullback has been aggressively bid by buyers on the sidelines that have been waiting to join the move and this has further contributed to an even more overbought state. So, what's a risk averse trader to do?
In the article published last Thursday, I had looked at support potential around the 1490 level, and this came into play on Monday of this week. After that support set, prices ripped-higher by $45 by Tuesday morning, setting that fresh six-year-high.
This move quickly reversed yesterday morning on news that some tariffs on China would be delayed; initially expected to come into effect on September 1 and now coming into play on December 15th. There was also an item of positivity from the Chinese side, as China said that talks would take place with the US, over the phone, in two weeks. This led to a quick sell-off as Gold prices perched down to 1480 but, similar to other sell-offs in the recent past, buyers were waiting on the sideline to pounce, pushing prices right back above the 1500 marker.