Gold Price Forecast: Gold Grasps At Fibo Support But Sellers Vigilent
Last week saw heavy re-pricing in Gold as buyers bailed after the Fed issued their updated forecasts. And while the changes in the Fed's forecasts may seem subtle, the market reaction was not as there was a clear signal that was being inferred and perhaps even implied by the FOMC. That signal is that the loose money policies implemented to help the economy round the corner on Covid will not be around forever. And as some economic items have perked up, such as inflation, the end of that accommodation may be coming sooner rather than later.
The Fed highlighted the potential for two rate hikes in 2023; so not next year but the year after, and in fast order the US Dollar surged and most major FX pairs reversed. Gold prices were not left unscathed, as buyers quickly bailed from bullish setups and prices sunk all the way down to 1761 after having traded at 1900 on the Friday before the FOMC.
That amounts to a move of -7.46%, taken from the Friday high to last week's low, and at that point, a confluent zone of Fibonacci support started to come into play that, thus far, has been able to contain the lows. These plots between 1763.11 and 1766.28. And after holding last week's low into this week's open, prices have put in a mild bounce from this zone and that's so far held up throughout the week.
GOLD DAILY PRICE CHART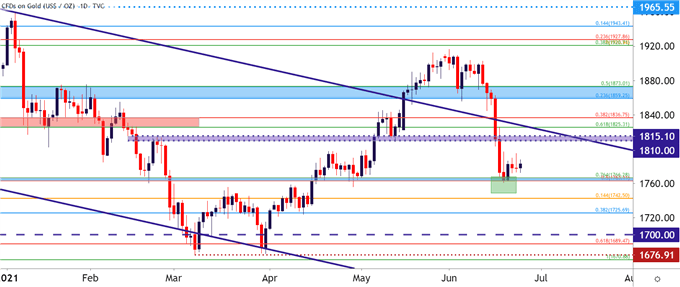 Chart prepared by James Stanley; Gold on Tradingview
GOLD BOUNCE CUT SHORT SO FAR
Normally after a move of that magnitude, once support plays in there's often a stronger pullback in response. Take the US Dollar, for instance, which put in a very visible pullback in the first few days of this week. But in Gold, sellers have remained fairly active while helping to drive in resistance just inside of the 1800 handle. And the corresponding bounce from support? That's only retraced 23.6% of the June move whereas the US Dollar had retraced a bit more.
The highlight here is the fact that the pullback in the Gold sell-off has been a bit lighter than the pullback in the USD surge, and this indicates that there may be a greater shift afoot as investors gear up for a more hawkish Fed at some point down the road, even if that's not a near-term concern.
Disclaimer: See the full disclosure for DailyFX here.