Gold: Monetary Expansion Likely To Drive Prices Higher From Here
With stocks flying high, Bitcoin (BTC-USD), and other digital assets skyrocketing left and right, it seems that many market participants have essentially forgotten about gold. In fact, given the current economic backdrop gold is arguably cheap. Nevertheless, you would never guess this from the price action, as the "gold trade" seems to be deeply hated right now. Likewise, if we look at gold mining companies, some are simply trading at rock bottom valuations.
Is Gold Cheap Right Now?
Putting a precise price tag on gold is somewhat difficult. Do you look at the dollar index, key bond yields, inflation, Fed policy? To get a better understanding we will look at several key metrics, but first, let's look at a chart of gold.
Gold 1-year chart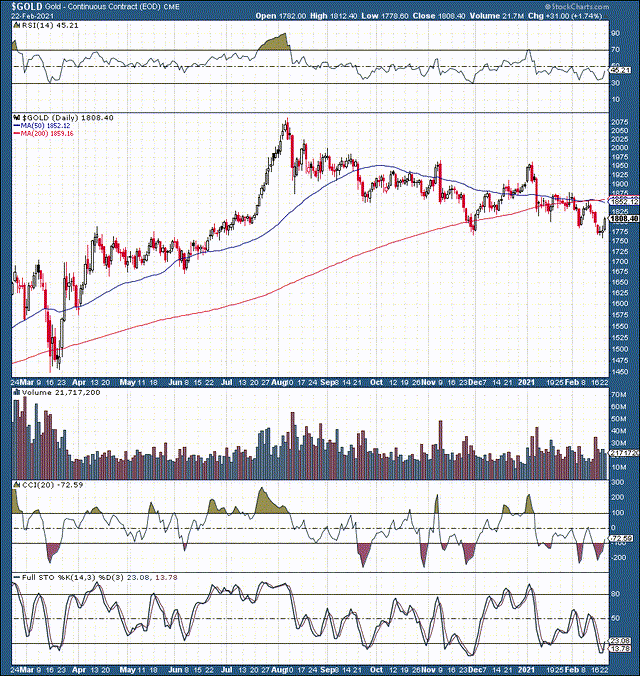 Source: Stockcharts.com
We see that gold has been in a downward trending channel for nearly 7 months now. Furthermore, we can see that at around $1,750 gold has a crucial support level, a point it consolidated at previously before making a run at its all-time highs above $2,000.
Gold 3-year chart
If we look at the 3-year chart of gold we see that the precious metal has had several similar correction type periods in the past following steep run-ups. Granted this latest decline has been longer than prior consolidation/pullback phases. Nevertheless, the push towards new all-time highs (ATHs) was also quite vertical relative to prior ascends. In addition, the RSI shot up to approximately 90 for the first time in a number of years, illustrating extremely overbought technical conditions for gold at the time. Therefore, it is not terribly surprising that the recent correction phase is taking longer to conclude than previous such events.
USD 1-year chart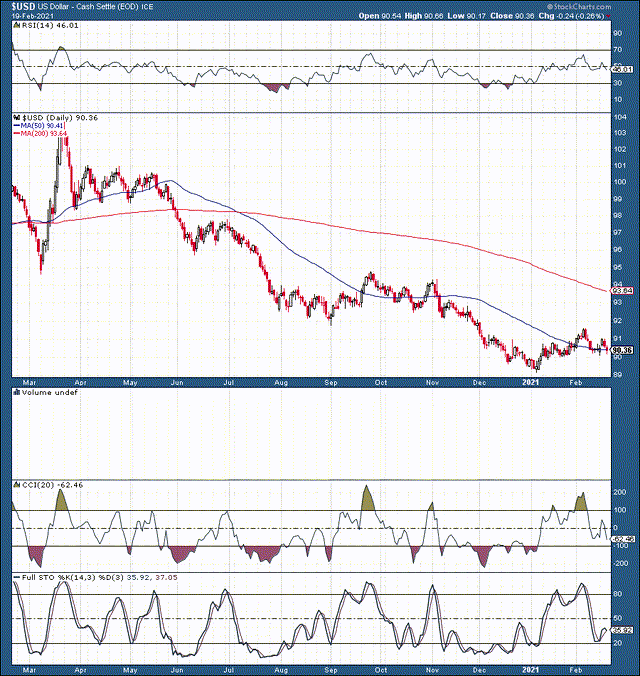 The dollar index is lower than where it was in August when gold peaked. Thus, we see both the dollar and gold decline in tandem over the last several months.
USD 3-year chart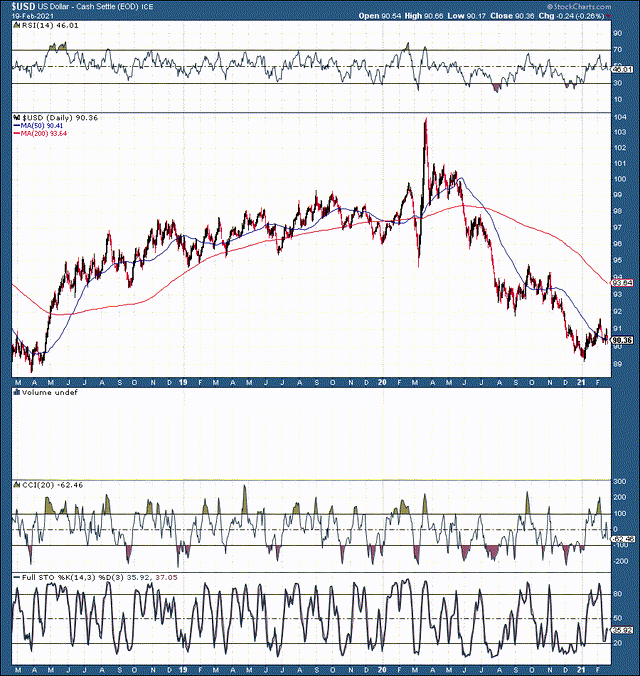 The dollar index is essentially back to where it was 3 years ago, while gold has made substantial gains over the last several years. Despite the short-term correlation the dollar and gold prices show at times these charts illustrate that intermediate and longer-term this correlation is far less pronounced.
Let's look at rates
10-Year Treasury 1-year chart

Source: CNBC.com
We see that the 10-year has made some significant gains lately. Moreover, we can also see that the key benchmark bottomed in early August, coinciding with gold's top. However, we see that while the 10-year is essentially back to where it was 1 year ago, gold is up by roughly 15% over the same time frame. Thus, we see some correlation here on a shorter-term basis.
Disclaimer: This article expresses solely my opinions, is produced for informational purposes only, and is not a recommendation to buy or sell any securities. Investing comes with risk to loss ...
more