Gold Mining Stocks Are Trades, Not Investments
The rising demand for gold pushes up gold's price relative to the prices of most other assets and commodities, which elevates the general interest in gold mining. Eventually, there will be a flood of money towards the gold mining industry that boosts valuations and that the managers of gold mining companies will use for something. That something will be project developments or acquisitions.
Regardless of how high market valuations move or how costly new mine developments become, gold-mining company managers will never say: "We don't want your money because there currently are no acquisitions or new projects that make economic sense." Instead, they will take the money and put it to work, based on the assumption that current price trends can be extrapolated into the distant future. The result invariably will be an artificial boom in the gold mining industry characterized by a cluster of high-cost investments that eventually get revealed as ill-conceived. Massive write-offs and an industry-wide retrenchment will ensue as surely as night follows day, thus obliterating the wealth created by the industry during the boom.
Gold itself is not made less valuable by the monetary-inflation-caused inefficiencies and widespread wastage that periodically beset the gold-mining industry. That's why the gold mining sector, as represented on the following weekly chart by the Barrons Gold Mining Index prior to 1995 and the HUI thereafter, has been in a downward trend relative to gold bullion since 1968. That's right — gold mining stocks, as a group, have been trending downwards relative to gold for more than 50 years!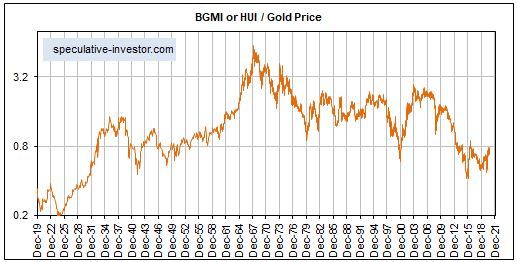 The trend illustrated by the above chart is a function of the current monetary system and won't end before the current system is replaced. The trend could end within the next ten years, but it didn't end in 2020 and almost certainly won't end in 2021 or 2022. An implication is that if you want to make a long-term investment in gold, then buy gold. Gold mining stocks are for trading. [This post is an excerpt from a commentary posted at TSI last month]